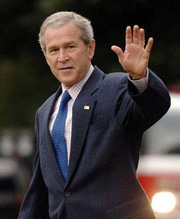 President George W. Bush, an avid cyclist, will test his mettle against Lance Armstrong when the cycling superstar visits the president's Texas ranch this weekend.
President Bush is getting plenty of bike time during his ranch vacation and next weekend he even gets to hit the trails with seven-time Tour de France winner Lance Armstrong.
Armstrong told ABC's "This Week" on Sunday that he'll travel to Crawford, Texas, next Saturday to ride mountain bikes with the president around Bush's ranch.
"It's a dream scenario for me," Armstrong said. "Now that President Bush doesn't run anymore, he rides his mountain bike fanatically. People wonder why he stays at the ranch so long, it might be the mountain bike trails."
It also must be a dream scenario for Bush to ride with Armstrong, a fellow Texan and cancer survivor who last month won his most recent Tour de France. Bush has become an avid biker in the last couple of years, after a knee injury forced him to give up his jogging routine.
"Like a lot of baby boomers, my knees gave out," Bush explained to seven journalists who accompanied him on a two-hour ride Saturday. "And I believe that mountain biking is going to be an outlet for a lot of people my age. "
Bush said he considers exercise good preventive medicine and "part of living a disciplined life." He said he is trying to set an example to more Americans to exercise.
Bush said he prefers mountain biking to road biking, where riders often shave their legs and wear Lycra shorts. "There are certain things that age brings with it, and not wearing the formfitting Lycra short is one of them, if you know what I mean," Bush joked with the reporters.
Armstrong said although the president certainly couldn'twhip him, he's impressed with how seriously Bush takes his new sport.
"I know people who have ridden with him," Armstrong said. "I can tell you he's one very competitive guy. Very competitive, there's no talking. A few minutes of warm up time, a littlechitchat , then you go."
Armstrong also spent some time during the Tour de France with Bush's former rival, 2004 Democratic presidential nominee John Kerry, who followed in a car during the final time trial. Armstrong said he's nottaking sides in politics even though he's opposed to the war in Iraq.
"As a survivor, I think we would be better spending money on an illness like cancer," he said.

(Agencies)
正在得克萨斯州克劳福德农场休假的美国总统布什现在有大把大把的时间用来骑山地车。下周末,他还将和七届环法自行车赛冠军兰斯·阿姆斯特朗切磋技艺。
周日,阿姆斯特朗在美国广播公司新闻对话节目《本周》中接受采访时表示,下周六他将前往得克萨斯州克劳福德农场,和布什总统进行一场环农场山地车赛。
"对于我来说,这样的情景之前只出现在梦境中。布什总统已经不再练习慢跑,他疯狂地爱上了骑山地车。很多人纳闷为什么他总是喜欢在农场待那么长时间,可能正是因为那边的山地车道让他依依不舍。"
对于布什总统来说,他一定也梦想着能够和阿姆斯特朗同场竞技。阿姆斯特朗不仅是布什的得克萨斯州老乡,而且在身患癌症后,仍积极参加比赛,上月刚刚又一次获得环法自行车赛冠军。几年前,一次膝盖受伤后,布什总统不得不放弃了例行的慢跑锻炼,转而练习骑山地车,并从此一发不可收拾。
上周六,布什邀请了7位记者朋友陪他一起骑了两个小时山地车,他对记者们说:"和许多出生在'婴儿潮'时期的许多人一样,我的膝盖不听使唤了。我相信骑山地车对于许多和我差不多年纪的人来说是一条发泄的途径。"
布什说,他认为体育锻炼不仅能起到很好的预防作用,也是"有规律的生活的一部分"。他说希望通过自己的实际行动为更多美国民众树立一个好的榜样,鼓励更多美国人积极参加体育运动。
布什说,和公路自行车相比,他更喜欢山地自行车。公路自行车选手经常要刮腿毛,而且还要穿莱卡紧身短裤。"有些事情和年龄有关,不穿贴身的莱卡短裤就是其中之一,你们懂我的意思吧。"布什和记者朋友们开玩笑说。
阿姆斯特朗表示,尽管布什总统绝对不可能骑得比他快,总统先生对待这项体育运动的严肃态度给他留下了很深的印象。
"我认识一些曾经和他一起骑过山地车的朋友,我可以告诉你他的竞争意识真的很强。非常有竞争意识,骑车的时候一句话都不讲。开始大家先热身几分钟,然后稍微聊几句,就开始骑了。"阿姆斯特朗说。
在参加环法自行车赛时,阿姆斯特朗也曾经和布什以前的竞争对手、2004年美国大选民主党候选人约翰·克里接触过。在最后一个计时赛段中,克里坐在车里一路跟随阿姆斯特朗。阿姆斯特朗说自己虽然反对伊拉克战争,但是在政治上保持中立。
"作为一名癌症的幸存者,我想我们更应该把钱花在攻克癌症等疾病上。"他说。

(中国日报网站 薛晓文译)