Simulation marriages on Internet in vogue
(Xinhua)
Updated: 2005-08-17 17:14
A bride and bridegroom were accepting congratulations from friends at their wedding feast. Someone ignited firecrackers, and delicacies of every kind were served.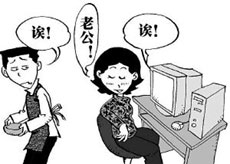 Online simulation marriage has been popular with a large number of Chinese youths with the widespread accesses into the Internet. [baidu]


There was no difference with a common wedding ceremony. But it took place in cyberspace, everything done with a mouse and keyboard.

Getting married on the web has become a new game popular among Chinese youth.

Twenty-seven-year-old girl Xiao Wu, unmarried in real world, received an invitation from the web site she often visits recently to join the group wedding on Qixi, the China's Valentine's day, which fell on Aug. 11 this year.

Xiao Wu's web boyfriend asked her "Will you marry me?" And Xiao Wu accepted the proposal.

"There is no harm. It's just for fun. If we feel unhappy about the 'marriage', we can get 'divorced'," said Xiao Wu.

At the web site where Xiao Wu got married, innumerable people elope, marry and divorce everyday.

"Getting married on the Internet is quite simple. You only need to register on the web site which hosts a web marriage community," China Youth Daily reported.

In the community, you may have your own house, plant flowers in the garden and find a job. Government departments, shopping stores, law offices including marriage registration offices can be found in the cyber- community, the newspaper said.

If a couple of lovers find each other congenial in the chatting room, they may register to get married in the law office. After registration, the couple may live in the same house together. They may have their house decorated, do housework, raise pets, and even have babies, the newspaper said.

If they find they are unhappy with the marriage life, they may divorce with one touch of the mouse, it said.

Internet marriage first appeared in some games. As it was so popular among young people, some web sites began to open such kinds of communities to let people experience the web marriage life, said Li Tao, an editor of a web site.

At present, there are dozens of Internet marriage web sites in China, and the number of similar sites of web cohabitation and web families is also increasing.

But spending lots of time chatting on the Internet and living an online marriage life has also sparked fierce debates on whether the web marriages affect families in real world.

Some argue that if web marriages involve emotions, real marriage will be threatened.

Those who support the web marriage say it is a way to relax themselves, since the real world is full of great pressures.

Sun Zhongxing, a professor with the Sociology Department of Fudan University, said most of the people who join in web marriages are unmarried in real world. The game may offer them a chance to get to make more friends.

Unhappy spouses, however, would probably not pursue online marriages.

"Those who have problems in real marriage would look for other ways to evade their family, even if there were no web marriage," said Sun.

Although Xiao Wu got married on the Internet, she doesn't want to meet her cyber-husband in person.

"I just want to have a place to kill time. Most web couples do not meet each other in the real world. We don't want to destroy our fun imaginations," said Xiao Wu.

What makes professor Sun really worry is that the participants of web marriage are too young. Statistics show that more than 100,000 Internet surfers joined web marriage sites in 2004. Most of them are between the age of 20 and 25, and the youngest ones are teenagers.

On the web, 17-year-old Xiao Qu described himself as a 1.75-meter handsome boy. He found all of his neighbors on the web are smart boys or pretty girls. Of course he would not say he was in fact a slim, short and common boy.

But teenagers have exhibited high sensitivity to web marriage.

Since Xiao made a girlfriend on the Internet, his mood has been determined by his web girl friend, and he has become reluctant to talk with his parents.

"Teenagers' capacity to identify what is true and what is false is very low," said Sun, adding that they are often credulous of the virtual situation in cyberspace. "After coming back to the real world, they may easily get depressed and emotionally damaged."





| | |
| --- | --- |
| | |
| MTV to air trip by Jolie to Africa | |

| | |
| --- | --- |
| | |
| Wild orgies leave the Great Wall in mess, and tears | |

| | |
| --- | --- |
| | |
| Zhou Xun parts with agent company | |
Today's Top News
Top Life News

Singapore: China-India ties to anchor new Asia century




China, Russia start joint military exercises




US, China said close to broad textile deal




Foreign banks to buy Guangdong bank shares




Mainland scrambles to help Taiwan airlines




US in touch with N. Korea ahead of nuke talks