Russia says dangerous bird flu outbreak spreads
(Agencies)
Updated: 2005-08-16 21:52
Russia said on Tuesday an outbreak of bird flu in Chelyabinsk was dangerous to humans, as teams of sanitary workers destroyed birds in Siberia in an attempt to prevent the westward spread of the deadly virus.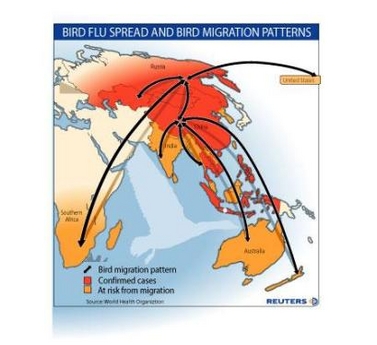 Russia, which is scrambling to contain a bird flu outbreak in Siberia, warned the world on Monday that migrating birds may export the deadly virus to Europe and the Middle East in coming months. The outbreak, previously confined to five remote areas of Siberia, appeared to be moving westward after the virus hit a major industrial region -- Chelyabinsk in the Ural mountains which sever Asia from Europe. [Reuters]
The H5N1 strain of bird flu is behind the outbreak in Chelyabinsk, a city in the Ural mountains, the Emergencies Ministry said in a statement.
It said no cases among humans have been confirmed in Russia.
"Measures are being taken to prevent the spreading of the infection among domestic birds and to exclude the possibility of the infection moving to humans," the statement added.
Russia is battling to contain a bird flu outbreak, which top health officials say has killed more than 11,000 birds countrywide and could spread westwards to Europe, the Middle East and Africa.
The outbreak was discovered in mid-July in Novosibirsk and has spread through Tyumen, Omsk, Kurgan, Altai and now Chelyabinsk, which is about 1,000 km (600 miles) from Novosibirsk. Neighboring Kazakhstan and Mongolia have also reported outbreaks.
Senior agricultural officials believe the flu was brought by migrating birds from Asia, where more than 50 people have died from the deadly H5N1 strain since 2003.
"This is a global process and all of Asia is involved in it and soon perhaps not only Asia," Nikolai Vlasov, deputy head of Russia's Federal Vetinary and Phytosanitary Inspection Service, said in Novosibirsk, Interfax reported.
Vlasov said there was no way to block the migration routes.
Officials fear that the virus could spread to Europe and Africa as tens of millions of birds continue their migration to warmer climates from next month ahead of Russia's harsh winter.
MIGRATION
Chelyabinsk lies in the Ural mountains, the geographic divide between Asia and Europe. Russia's top state epidemiologist, Gennady Onishchenko, said migratory birds move on to warmer areas in southern Russia, Africa and Europe in the autumn after nesting in Siberia.
But the diversity of Siberia's bird species makes plotting the flight paths of the birds difficult, specialists in Moscow said.
"There are about 800 different species of birds in Russia and so there are many different migration flows, which criss-cross Russian territory," said Dr. Pavel Tomkovich, a senior ornithologist at Moscow's Zoological Museum.
He said water fowl will leave to winter in warmer climates, flying through Russia's southern regions, northern Kazakhstan, the Caspian and Black seas toward the Mediterranean and north Africa.
The Royal Society for the Protection of Birds (RSBP), a British charity, said birds will migrate to countries across the Middle East, Africa and Europe.
Ducks, geese and wading birds such as snipe and curlew will migrate south and west while larks and plovers will fly into Afghanistan and some may cross the Persian Gulf and North Africa.
"Birds will radiate out across quite a wide area and undoubtedly into the Mediterranean," said Grahame Madge, a spokesman for RSBP, which says it is increasingly concerned that some of the world's rarest birds will get caught up in the bird flu outbreak.
The migration could take infected birds through Russia's agricultural heartland in the south.
In parts of Chelyabinsk, barriers were placed on roads and local officials imposed a ban on the sale of all poultry products, the Itar-Tass news agency reported. Farmers are being compensated for birds which were being destroyed, the agency said.
Bird flu comes in different strains, such as H5 and H7, which have nine different subtypes. The H5N1 subtype is highly pathogenic and can be passed from birds to humans, though there have been no cases of human to human transmission.