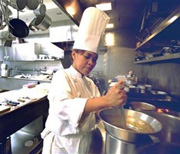 In this photograph provided by the White House, Chef Cristeta 'Cris' Comerford prepares a meal inside the White House kitchen in this July 17, 2002, photo.
Kitchen duties may have traditionally been viewed as women's work, but not at the White House. Until now: Cristeta Comerford has been named executive chef.
After an extensive six-month search, first lady Laura Bush announced Sunday that Comerford was chosen from hundreds of applicants to head the executive kitchen. A naturalized U.S. citizen from the Philippines, she will be the first woman and first minority to hold the post.
The 42-year-old Comerford has been an assistant chef at the White House for 10 years. She worked under former executive chef Walter Scheib III, who resigned in February.
Scheib said Sunday that Comerford was hands down the best assistant he had in his 30-year career and is a wonderful choice to take over. He said she is a great cook with an artistic eye and a calm demeanor that can handle the pressure cooker that is the White House kitchen.
While being executive chef at the White House is prestigious, the job also can be grueling. Comerford will be in charge of whipping up everything from state dinners for world leaders to munchies for the commander in chief, his family and guests.
As many as 2,000 guests per month are fed at the White House. Mrs. Bush has signaled her intent to do more entertaining than in the first term, when festivities were taboo after the terrorist attacks on Sept. 11, 2001.
Mrs. Bush has been trying out finalists for the job, asking them to prepare test meals at special functions and private meals at the residence.
Comerford has a bachelor's degree in Food Technology from the University of the Philippines. She has worked at Le Ciel in Vienna, Austria and at restaurants in two Washington hotels.
The head chef is responsible for designing and executing menus for state dinners, social events, holiday functions, receptions and official luncheons hosted by the president and first lady. The job pays around $80,000-$100,000 a year.

(Agencies)
下厨房通常被视为女性的份内事,但在白宫却是一个例外。直到最近克里斯蒂娜·科默福德成为白宫"第一御厨",才打破了长期以来男性统治该职位的惯例。
经过长达六个月的撒网寻觅,上周日(8月14日),美国第一夫人劳拉宣布科默福德从几百名候选者中脱颖而出,成为白宫新一任"第一御厨"。这位菲律宾裔美国人将成为第一位出任该职位的少数族裔女性。
现年42岁的科默福德在白宫做助理厨师已有10年之久,曾在前任御厨沃尔特·斯盖布的手下工作。后者已于今年2月辞职。
上周日,斯盖布说,科默福德无疑是他30年厨师生涯中遇到的最好的帮手,也是接替这一职位的最佳人选。在斯盖布看来,她是一位非常出色的厨师,她有艺术家的眼光,遇事沉着冷静,完全能够应对白宫厨房工作的巨大压力。
身为白宫"第一御厨"无疑会享有很高的声望和威信,但这份工作也很折磨人。科默福德将负责处理各种大小事务,从为世界各国领导人准备国宴到为总统及其家人、朋友准备快餐。
白宫每月平均要宴请2000位宾客,布什夫人已经放出风声说,与第一个任期相比,她将会在白宫招待更多客人。布什第一个任期的时候,受2001年9·11恐怖袭击事件的影响,在白宫中忌讳举行宴请活动。
布什夫人亲自考察了最后入围的大厨们,并让他们分别准备用于特殊场合的菜肴和家常菜作为考察的内容。
科默福德拥有菲律宾大学食品工艺学的学士学位,她曾经在奥地利维也纳的Le Ciel餐厅和华盛顿两家酒店的餐厅工作过。
白宫的"第一御厨"负责美国总统和第一夫人举办的所有国宴、社交活动、节日庆典、招待会和正式午餐会菜单的设计和烹饪工作。这份工作的年薪约为8万到10万美元。

(中国日报网站 薛晓文译)