South Korean, DPRK separated families hold video reunions
(Xinhua)
Updated: 2005-08-15 15:48
Forty families from South Korea and the Democratic People's Republic of Korea (DPRK) held video conference with their long separated family members living in the other side on Monday.
The video conference came at a time when the two countries are celebrating the 60th anniversary of the liberation from the Japanese colonial rule.
On Monday, 20 families from South Korea in seven major cities, including Seoul, Daejeon, Gwangju and Incheon, talked to their DPRK relatives through video system, reported South Korean Yonhap News Agency.
In DPRK, 20 families also gathered in Pyongyang, using the video system to meet their South Korean relatives.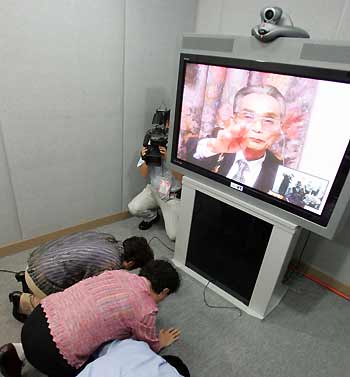 (L-R) South Koreans Chung Yong-ae, Chung Yong-im and Chung In-gul bow to their North Korean brother Chung Byong-yun on a TV screen at a video family reunion session in Seoul August 15, 2005. The cable linking Seoul and Pyongyang is used for the first video reunions of families torn apart by the 1950-53 Korean War. [Reuters]
The oldest among the participants is 100-year-old Lee Ryeong from South Korea who met her grandson and his wife in the DPRK, Yonhap said.
Monday's pilot video conference opened with greeting exchanges between Han Wan-sang, chief of South Korea's National Red Cross and his DPRK counterpart Chang Jae On.
"The past decades were a painful time for the 10 million separated Korean families," Han Wan-sang was quoted by Yonhap as saying. In response, Chang said that it would pave the way for resolving humanitarian issues between the two countries in the information and technology era.
Face-to-face separated family reunions have been held 10 times since 2000, bringing together about 10,000 separated family members at the DPRK 's Mount Geumgang. The 11th round separated family reunions is scheduled for August 26.
Since 2000, the South Korean Unification Ministry received about 120,000 applications for a reunion but among them only 98, 000 applicants remain alive with a quarter of them aged over 80.
The video reunions, thus, have been viewed as opening the door wider for them.
To facilitate the video reunion of separated families, South Korea and the DPRK laid fiber-optic cables last month, linking the South Korean city of Munsan and DPRK's Kaeseong. The link realized communications between Seoul and Pyongyang for the first time after the Korean War (1950-1953).
The idea of using video conferencing technology for family reunions was first proposed by South Korean Unification Minister Chung Dong-young when he met with the DPRK's top leader Kim Jong Il on June 17.
Then, in the 15th round of Inter-Korean Ministerial Meeting held in late June here, the two sides agreed on details over the video conference.