Injury slows Sharapova's move to No. 1
(AP)
Updated: 2005-08-13 15:04
Maria Sharapova is on her way to becoming No. 1 in the world. She'll have to put the celebration on hold for another 10 days, though, reported AP.
Sharapova withdrew from the JPMorgan Chase Open because of a strained chest muscle Friday, postponing her move from No. 2 into the top spot. The tournament's top seed was scheduled to play ninth-seeded Daniela Hantuchova of Slovakia in an evening quarterfinal match.
A victory would have given the 18-year-old Russian enough points to overtake injured American Lindsay Davenport as No. 1.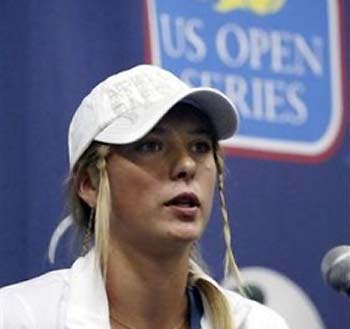 Maria Sharapova, of Russia, speaks during a press conference after she has withdrawn from JP Morgan Chase Open due to a right pectoral muscle strain in Carson, Calif., Friday, Aug. 12, 2005.[AP]

Instead, Sharapova will become the first Russian to hold the top spot on Aug. 22. She will be the fifth youngest at No. 1, and the 15th player in that coveted spot since the WTA Tour rankings began in 1975.

Sharapova is entered in next week's tournament at Toronto, but she said the chances of her playing are "not very big."

Whether she plays another match or not, she'll overtake Davenport in the rankings points. Davenport did not enter Toronto.

"The computer doesn't lie," said Sharapova, the 2004 Wimbledon champion. "You have to achieve something to get there. It's been an amazing two years and the achievement is amazing."

Sharapova received treatment on her injured right chest muscle Friday morning, but was in too much pain to practice and decided to withdraw.

"I didn't find any miracle cream that would work," she said, smiling. "I can do a lot of things with my arm, except serve and hit a forehand."

Sharapova had hinted Thursday that her status was doubtful. She said she played in pain during a 4-6, 6-4, 7-5 third-round win over Anna Chakvetadze of Russia.

She said the injury on her right side affected her ability to serve hard and pound forehands, the biggest strengths of her game.

The WTA Tour said Sharapova's injury occurred during practice Monday, although she said she originally strained the chest muscle in October at a tournament in Zurich, playing with heavier balls.

"Since then, it's been an on and off problem for me," she said Thursday. "I don't think the pain is going to go away with me trying to play and hit as hard as I can."

She had an MRI on Wednesday that showed the muscle is inflamed, not torn. She had it taped for Thursday's match, but the tape restricted her movement.

Meanwhile, fifth-seeded Kim Clijsters reached the semifinals with a 6-4, 6-2 victory over No. 4 seed Nadia Petrova.

Clijsters improved to 13-1 this year against Russian players, and 4-0 against Petrova in her career.

"The Russians play a similar type of game, they hit the ball hard and consistent. I enjoy playing them," she said. "I kept her moving from side to side. I had to mix it up."

Clijsters next will meet 13th-seeded Francesca Schiavone of Italy, a 7-5, 6-4 winner over 33-year-old Conchita Martinez of Spain.

Hantuchova advanced via walkover to her third semifinal of the year. She will play No. 3 seed Elena Dementieva, who routed Italian qualifier Tathiana Garbin 6-1, 6-1 in 49 minutes.

"It's been a long time I could finish the match like that in less than an hour," Dementieva said. "I was feeling very confident with every shot that I was making."

Sharapova insisted Thursday that she felt no pressure to continue playing despite the tournament being hard hit by the earlier injury withdrawals of Davenport, Serena Williams, Mary Pierce, Vera Zvonareva, Elena Likhovtseva and Ai Sugiyama.

"It's not important for me to play," she said, adding that her goal is to be healthy for the U.S. Open beginning Aug. 29.

With the losses of Davenport and Williams, tournament promoters had focused their advertising on Sharapova, including a giveaway of 5,000 bobblehead dolls in her likeness Friday night.

"It is a bit of a flukish thing that we've had that many players injured at the same time," said Larry Scott, WTA Tour chairman and CEO.

He congratulated Sharapova on her impending move up.

"It's a bittersweet moment that the fans can't see her do it on the court," he said.




| | |
| --- | --- |
| | |
| IAAF World Athletics Championships | |

| | |
| --- | --- |
| | |
| Beijing beat Shanghai 2-0 in China FA Cup first round | |

| | |
| --- | --- |
| | |
| China tie 1-1 with Finland in 23rd Universiade women's soccer | |
Today's Top News
Top Sports News

Forex savings drop by US$592m in July




Sri Lanka's foreign minister assassinated




Iran pushes ahead on nuclear path




Experts call for review of sentencing




US veterans join WWII victory events




Tibetan bird flu outbreak 'under control'