Pakistan planned crackdown before London bombings - British envoy
(AFP)
Updated: 2005-08-13 14:36
Pakistan's President Pervez Musharraf had already planned to tackle extremists before the July 7 London bombings and did not do so under pressure from Britain, the British envoy to Islamabad said, AFP reported.
Musharraf has ordered more than 800 militant suspects arrested in sweeping raids and told some 1,400 foreign madrassa students to leave Pakistan, sparking widespread anger across the country.
"This crackdown was planned before 7 July. Maybe you didn't know about it but I knew about it on the 5th of July so there is not the connection that you are trying to make with the London bombings," British High Commissioner told Mark Lyall-Grant told a news conference.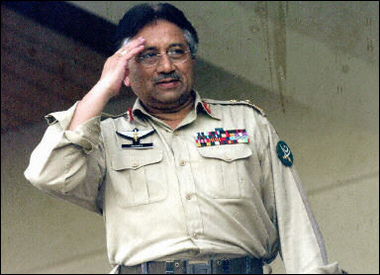 Pakistan's President Pervez Musharraf. [AFP/File]

Pakistan came under international scrutiny when it emerged that at least two of the suicide bombers had visited the country before the attacks and one may have visisted a madrassa, or Islamic religious school.

Three of the bombers, who killed 52 people on three subway trains and a bus, were Britons of Pakistani origin.

"There have been stories that the Pakistani government's crackdown on extremism and action to register madrassas and expel foreign students from madrassas was taken because of the London bombings, or at the request of the UK," Lyall-Grant said on Friday.

"This is not true. Those measures were planned in advance of July 7. The British government supports those measures but the initiative came from the Pakistani government."

The diplomat said he was "satisfied" the crackdown was effective and being pursued by Musharraf.

The Pakistani military leader has had to tread a tightrope between angering Islamic extremists at home and keeping the international community happy. He has already escaped a number of militant-linked assassination attempts.

The British envoy repeated earlier statements that Britain did not blame Pakistan for the attacks.

"The suicide bombers of 7 July were not Pakistani. They were British," he told reporters.

"It is true that three were of Pakistani origin, and that at least two had travelled to Pakistan on a number of occasions. But all four were brought up, educated and presumably radicalised in the UK.

"There is no question of blaming Pakistan for these attacks. Nor will UK-Pakistan relations be affected."

However General Musharraf himself has had stern words for British Prime Minister Tony Blair in the weeks since the London bombings.

In an interview broadcast Monday he said the British government had been too soft on extremist activity at home, expressing concern about the action of radical groups in Britain.

This week Britain has taken tough action, banning radical cleric Omar Bakri Mohammed from ever returning to its shores Friday and launching bids to deport 10 other foreign Islamists.




| | |
| --- | --- |
| | |
| Japanese PM launches general election campaign | |

| | |
| --- | --- |
| | |
| Katrina slams US Gulf Coast, oil rigs adrift | |

| | |
| --- | --- |
| | |
| Japan's 6 parties square off in TV debate | |
Today's Top News
Top World News

President Hu Jintao: Gender equality crucial




Special grants offered to poor students




EU takes steps to unblock China textiles




Farmers sue county for illegal land use




Search for 123 trapped miners suspended




Hurricane Katrina rocks New Orleans