Iraq gets ready for Saddam trial
(China Daily)
Updated: 2005-08-11 06:16
Many Iraqis would cheerfully see Saddam Hussein severely punished, but the new Iraqi Government does not want to earn a reputation for itself of dispensing with judicial process.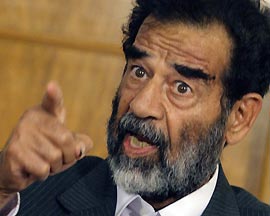 Former Iraqi President Saddam Hussein is shown in this file photo. His long-awaited trial is expected to begin within weeks. [Reuters]

The Iraqi Special Tribunal has heard around 7,000 witnesses and evaluated 2 million documents over recent months, and the former leader's trial is thought likely to begin within weeks.

The charge list is a long one. He is alleged to have entrenched himself in power through the mass murder of his own people.

The prosecution intends to open its case with events that happened more than 20 years ago, when a group of men from the Shi'ite village of Dujail north of Baghdad opened fire on a convoy carrying the then president.

Several guards died, but Saddam was uninjured. He gave vent to his rage by having around 140 of the village's men executed.

Almost 1,000 women and children were detained and tortured. In addition, Saddam's henchmen destroyed houses and laid waste the fields.

The Dujail case is seen as soundly based in law. Apparently there is a 1982 decree dated and signed by Saddam ordering the executions.

In other cases it might not be so easy to prove Saddam's guilt.

The prosecution aims to concentrate on around a dozen cases, leading evidence on each in succession.





| | |
| --- | --- |
| | |
| Japanese PM launches general election campaign | |

| | |
| --- | --- |
| | |
| Katrina slams US Gulf Coast, oil rigs adrift | |

| | |
| --- | --- |
| | |
| Japan's 6 parties square off in TV debate | |
Today's Top News
Top World News

President Hu Jintao: Gender equality crucial




Special grants offered to poor students




EU takes steps to unblock China textiles




Farmers sue county for illegal land use




Search for 123 trapped miners suspended




Hurricane Katrina rocks New Orleans