Zhao's injury casts shadow on Olympic medal
(Xinhua)
Updated: 2005-08-10 09:10
BEIJING, August 9 (Xinhua) -- Chinese figure skating pair Shen Xue and Zhao Hongbo's participation in next year's Turin Winter Olympics is in jeopardy after Zhao broke his Achilles tendon during a practice session last Friday.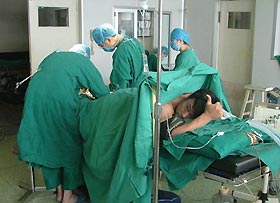 Zhao Hongbo receives a surgery in Beijing on August 9, 2005. [sina]

Zhao's old injury recurred while he was doing a triple-triple jump during the altitude training in South China's Yunnan province, officials at the China Figure Skating Association told Xinhua on Tuesday.

He was sent back to Beijing immediately and underwent an operation the next day.

"The operation went well, but he still need three months to take the ice, and one or two more months to do jumps," coach Yao Bin said.

With only six months to go before the Turin Games, Zhao's injury is definitely a heavy blow to the two-time world champions, who are eager to snatch their first-ever Olympic gold medal.

But Yao said they would cooperate closely with doctors to ensure that Zhao could recover in time for the Olympics.

With the new cracking, Shen/Zhao would cancel all the competitions before the Turin Games, including the 10th National Games of China scheduled for October.

Zhang Dan/Zhang Hao and Pang Qing/Tong Jian, Chinese two burgeoning pairs also coached by Yao, would not be affected by the incident, said Yao.





| | |
| --- | --- |
| | |
| IAAF World Championships 2005 | |

| | |
| --- | --- |
| | |
| IAAF World Athletics Championships 2005 | |

| | |
| --- | --- |
| | |
| LeBron James Basketball Park | |
Today's Top News
Top Sports News

At least 123 miners trapped by flooding




Central bank to open 2nd HQ in Shanghai




Experts begin picking pandas for Taiwan




Yahoo in talks on stake in China's Alibaba




China to launch lunar probe satellite in 2007




China's Huawei pursues Britain's Marconi