Shuttle Discovery lands safely in California
(Reuters)
Updated: 2005-08-10 08:45
The space shuttle Discovery and its seven astronauts returned to Earth safely on Tuesday, successfully completing NASA's troubled resumption of human space flight 2 1/2 years after the Columbia disaster, reported Reuters.
Discovery's mission eased some of NASA's woes after the deaths of Columbia's seven astronauts but it may also have been the last shuttle flight for some time. The U.S. space agency grounded the shuttle fleet after Discovery shed insulating foam at launch, the same problem that doomed Columbia.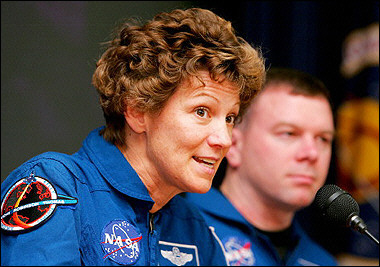 US space shuttle Discovery Commander Eileen Collins (L) and pilot James Kelly answer questions at a press conference at NASA's Dryden Flight Research Center on Edwards Air Force Base, California. [AFP]

Discovery made a fiery re-entry into Earth's atmosphere at 17,000 mph (27,000 kph), and swooped over the Pacific Ocean before gliding to a smooth predawn landing at Edwards Air Force Base in California.

NASA diverted the shuttle to California after skipping four chances to land at Discovery's home port, the Kennedy Space Center in Florida, because of menacing thunderstorms.

"Congratulations on a truly spectacular test flight," astronaut Ken Ham at Mission Control in Houston told the Discovery crew as the shuttle stopped on the runway. "Welcome home friends."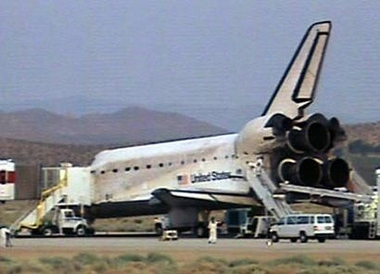 The shuttle Discovery sits on the runway after a successful re-entry and landing at 7:11am CDT, at Edwards Air Force base in California August 9, 2005.[Reuters]

Discovery's crew, Eileen Collins, Jim Kelly, Steve Robinson, Soichi Noguchi, Andy Thomas, Wendy Lawrence and Charlie Camarda, performed a traditional walk-around to inspect the ship after landing. All appeared to be in good shape.

NASA accomplished its main goal for the mission -- safely launching and landing the aging shuttle. But when chunks of insulation flew off Discovery's fuel tank during launch, the U.S. space agency was disappointed to find it had failed to fix the problem that led to Columbia's demise on February 1, 2003.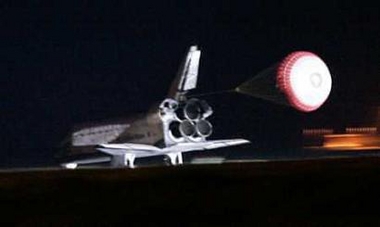 Space shuttle Discovery lands at Edwards Air Force Base in California July 9, 2005. [Reuters]

Investigators blamed Columbia's disintegration over Texas on a large piece of insulating foam that broke off the tank during launch and punched a hole in the orbiter's wing, allowing superheated gases to enter as the ship returned to Earth.

For Discovery's return, NASA had commander Collins adjust the shuttle's orbit so that it would not fly over the most heavily populated areas of Los Angeles in case of another accident. Columbia showered Texas and Louisiana with debris.





| | |
| --- | --- |
| | |
| Japanese PM launches general election campaign | |

| | |
| --- | --- |
| | |
| Katrina slams US Gulf Coast, oil rigs adrift | |

| | |
| --- | --- |
| | |
| Japan's 6 parties square off in TV debate | |
Today's Top News
Top World News

President Hu Jintao: Gender equality crucial




Special grants offered to poor students




EU takes steps to unblock China textiles




Farmers sue county for illegal land use




Search for 123 trapped miners suspended




Hurricane Katrina rocks New Orleans