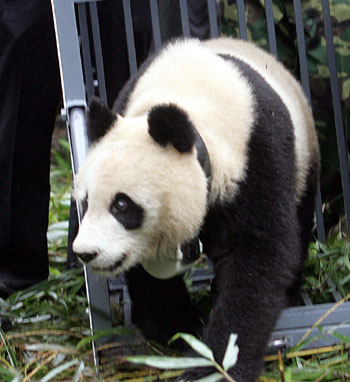 Giant Panda "Shenling No 1" walks out of a cage before disappearing into the Longxi-Hongkou National Natural Preserve in Dujiangyan, Southwest China's Sichuan Province August 8, 2005. The panda came into the media spotlight on July 16 when she was found wandering the city of Dujiangyan.
It weighed about 60 kilogrammes and was 90 centimetres long. She is between four and five years old, the age at which pandas reach sexual maturity. "She might have happened to roam the streets of Dujiangyan from the Longxi-Hongkou National Natural Preserve while looking for her 'Mr Right.' Alternatively, she might have been driven away by her mother to start an independent life," said Li Desheng, a panda expert from Wolong.
A check-up found the panda to be suffering from an infection of the gall bladder and anaemia. After round-the-clock intensive care for nearly 20 days, the panda became healthy enough to return to the wild.
It was the first time a panda had been released to the wild carrying a global positioning system on her neck.
After being set free at around 11 o'clock Monday morning, the panda headed straight into the forest, disappearing in less than one minute. [newsphoto]