Electricity supply to be balanced in 2007
(Xinhua)
Updated: 2005-08-09 07:19
China is expected to see a balance of electricity supply and demand with somewhat of a surplus, said a senior official with China Electricity Council (CEC) Monday.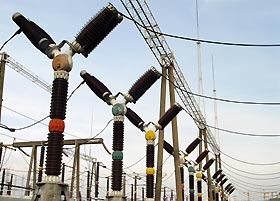 The transformers are seen in this picture taken in Shanghai on August 2, 2005. [newsphoto]

Wang Yonggan, Secretary-General of CEC, made the remarks at a press conference for the "2005 China Power Forum" which is due to be held from Wednesday to Thursday.

According to Wang, China saw a newly installed power capacity of over 50 million kilowatts in 2004, and the figure will remain at 70 million kw annually from 2005 to 2007.

By the end of 2007, China will boast an installed power capacity of 650 million kw, by which time the electricity supply and demand of the country will be basically balanced, and will even have some surpluses, said Wang.

China is the second largest installed power capacity owner and the second largest power generator in the world next to the U.S., said Wang.

An annual installed power capacity of 70 million kw means an annual investment of nearly 350 billion yuan (43.2 billion US dollars). China has become one of the largest power markets in the world, he said.

However, the rapid development of China's electricity industry has also created problems such as over-investment, high consumption, pollution and inefficiency as well as various infrastructural problems, said Wang.





| | |
| --- | --- |
| | |
| Coal mine flooding traps 102 in Guangdong | |

| | |
| --- | --- |
| | |
| Bus blast kills one, injures 23 | |

| | |
| --- | --- |
| | |
| Coal mine flooding traps 102 in Guangdong | |
Today's Top News
Top China News

Hopes fade for 102 trapped miners in Guangdong




Trade surplus to decrease in second half




Suicide bomber strikes on bus, injuring 31




Electricity supply to be balanced in 2007




Scientists call for national flowers




Iran restarts uranium conversion facility