City-rover panda sent back to wild
By Huang Zhiling (China Daily)
Updated: 2005-08-09 05:52
DUJIANGYAN, Sichuan: Local residents and tourists from abroad gathered yesterday to see a giant panda, mistaken for a burglar three weeks ago, released back into the wild.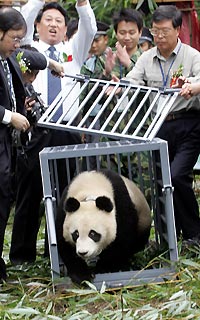 Onlookers applaud as "Shengling No 1," the female giant panda found roaming the city of Dujiangyan in Sichuan Province three weeks ago, is released back to the wild yesterday. She has spent the past weeks at Wolong panda research base.[newsphoto]

Noah Anglin, an American mechanical engineer from California, got up at 4:30am yesterday morning to be on time to take a bus from the Wolong Nature Reserve to the Longxi-Hongkou National Natural Preserve in Dujiangyan, Southwest China's Sichuan Province.

"I'm going to watch workers from Wolong send a giant panda back to the wild. It's very exciting," the 67-year-old told China Daily.

Having been to Wolong 15 times since his first trip there in 2000, Anglin has adopted two pandas in the reserve, worked as a volunteer, and donated and raised funds.

Anglin was just one of some 500 people who "had never got up as early as yesterday morning" to escort the panda, dubbed "Shenling No 1," on the nearly 3-hour drive from Wolong to the release site. Spectators included panda experts, workers from Wolong, officials from the State Forestry Bureau and Sichuan Provincial Forestry Bureau, journalists and forest policemen.

It was the first time a panda had been released to the wild carrying a global positioning system on her neck.





| | |
| --- | --- |
| | |
| Coal mine flooding traps 102 in Guangdong | |

| | |
| --- | --- |
| | |
| Bus blast kills one, injures 23 | |

| | |
| --- | --- |
| | |
| Coal mine flooding traps 102 in Guangdong | |
Today's Top News
Top China News

Hopes fade for 102 trapped miners in Guangdong




Trade surplus to decrease in second half




Suicide bomber strikes on bus, injuring 31




Electricity supply to be balanced in 2007




Scientists call for national flowers




Iran restarts uranium conversion facility