Suicide bomber strikes on bus, injuring 31
By Hu Meidong and Li Dapeng (China Daily)
Updated: 2005-08-09 05:50
FUZHOU: A suicide bomber blew himself up on a bus in central Fuzhou yesterday, killing himself and injuring 31 others, local police said.
The blast in the capital of East China's Fujian Province went off at 2:32 pm as the No 5 bus pulled in at the Dongjiekou Stop in Dongda Road, one of the city's busiest streets.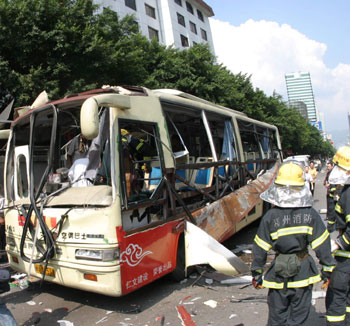 Rescuers inspect a bus hit by a suicide blast in Fuzhou, East China's Fujian Province August 8, 2005. [newsphoto]
There was a deafening "big bang," said Lin Lina, a female employee working in an office building on the roadside.
"Thick smoke rose into the sky, and we couldn't see or tell what was happening," Lin said.
Even from her office on the tenth floor, Lin said there was a strong smell of sulphur.
Eventually the smoke cleared to reveal the bus on the street below with its windows blown out.
"The passengers, injured and shocked, were struggling to get out of the bus," said Lin.
The shockwave from the home-made explosives was so huge that the windows of a nearby store shattered, according to the sohu.com website.
Lin's colleagues immediately called the emergency services. Fire engine and ambulance sirens soon rang through the street.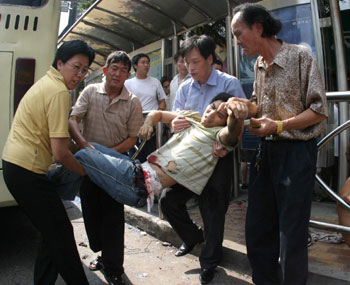 Rescuers carry an injured man to an ambulance after a suicide bomber blew himself up on a bus in central Fuzhou, killing himself on the site and injuring 31 others August 8, 2005. [newsphoto]
Police later said the explosion came from a second-row seat on the right-hand side of the bus.
The suspected bomber, Huang Maojin, died on the spot.
Huang, 42, was a farmer from Fujian's Gutian County.
According to a suicide note found by police, he had been suffering from lung cancer for about two years.
In the letter, Huang said he had a dispute with one of his neighbours in 2002. He claimed he had been unfairly treated by the local public security department and was sentenced to jail until the end of 2003.
The imprisonment delayed treatment of his illness, he claimed.
Huang's family was heavily in debt and his children were unable to go to school because of lack of money, the letter said.
Police are still investigating the case.
| | |
| --- | --- |
| | |
| Typhoon Matsa affects Dalian | |

| | |
| --- | --- |
| | |
| Coal mine flooding traps 102 in Guangdong | |

| | |
| --- | --- |
| | |
| Bus blast kills one, injures 23 | |
Today's Top News
Top China News

Trade surplus to decrease in second half




102 miners trapped as flood waters rise




Suicide bomber strikes on bus, injuring 31




Electricity supply to be balanced in 2007




Scientists call for national flowers




Iran defies West, resumes nuclear work