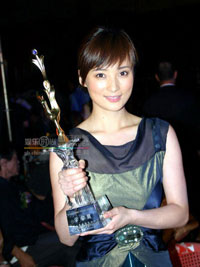 Jiang Qinqin wins film award
Chinese mainland actress Jiang Qinqin got an acting trophy for her excellent performance in the film "Sister Dictionary" at 10th Chinese Academy Awards on Saturday.

Jiang Wen and Zhao Wei also got awards.
Jiang said at the ceremony that she is a newcomer to the film industry however she is prepared to work hard as her names means "double diligence".
The actress has already taken the leading roles in famous films such as "Seven Nights" and "Guest On an Iceberg" and has proved her versatility to play different kinds of characters successfully.
The Chinese Academy Awards started in 1987 are the most important benchmark for Chinese film, along with the Golden Rooster Award.
This year saw a glittering ceremony in Rizhao city, Shandong Province as this marks the 100th anniversary of the Chinese film industry and the 20th anniversary of the establishment of the Chinese Film Academy.
(CRI)