'Mianzi' of Chinese weighs a lot, comes at a price
By Echo Shan (chinadaily.com.cn)
Updated: 2005-08-08 13:09
Mianzi (literally "face value") has long been observed by most Chinese. As a famous saying goes, "Men live for face as trees grow for bark."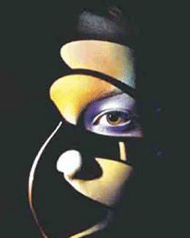 Most Chinese people value the face a lot as an old saying goes that people live for polished face while trees live for bark. [baidu]

In a recent survey conducted by China Youth Daily, over 93 percent of the 1,150 polled said they pay much attention to their mianzi, which concerns people's decency, personality, and dignity.

When asked what the most humiliating thing is, a heavy number accounting for 74.9 percent of the total chose public gaffes, with the failed fulfillment of one's promise coming in as second.

More than a half of the respondents feel ashamed of being shown as ignorant before others. A total 47.5 percent of the polled considered it a loss of face to have not enough money on them when treating friends out to a dinner.

What would enhance one's face value then? In a ranking on this question, the survey revealed that doing what others cannot do topped the list, taking up a high proportion of 83.7 percent. Following at the second, with 53.9 percent, was being praised in public.

Being outstandingly knowledgeable was third on the list for sharpening one's mianzi, accounting for 51.7 percent.

According to the survey, face value usually comes at a price. To pay or not to pay, it's a problem. Deeply obsessed with the face value concept, many "fight" each other for the chance to foot the bill despite an infertile pocket. Some 80.7 percent of those taking the poll thought it a tough life to always cling to the face value concept.

Surprisingly, only 8.7 percent of the polled insisted that it tarnishes a man's authority and face value in a family where the wife is the major breadwinner.

Clad even into teeth with the luxury name brand apparels, a limited 7.7 percent among all the respondents tend to resort to pricey clothes in a bid to gain more face value.

Taking the social status into consideration, 82.9 percent of the polled nod at the opinion that those holding a superior position care far more than the general public about face.

In another comparison, the manual labors pay less attention to the face value than brainworkers.

The survey also revealed that men focus more on face value than women and the senior more than the young.

While most people hold a neutral viewpoint about those who value mianzi a lot, nearly 80 percent of all the respondents were willing to make friends with them.





| | |
| --- | --- |
| | |
| Tony Leung to appear in Hollywood film | |

| | |
| --- | --- |
| | |
| Carina Lau to be short-lived CEO | |

| | |
| --- | --- |
| | |
| Oscar winner Theron to wed | |
Today's Top News
Top Life News

At least 123 miners trapped by flooding




Central bank to open 2nd HQ in Shanghai




Australia seeks nuke co-op with China




Experts begin picking pandas for Taiwan




Shuttle Discovery lands safely in California




Nation wants more say in IPR topics