China's google Baidu soars in Nasdaq debut
(Reuters)
Updated: 2005-08-08 09:15
The shares of China's largest Web search company, Baidu.com Inc. surged more than 354 percent in its U.S. debut Friday, the biggest daily gain by a newcomer to the market in five years, the Reuters reported.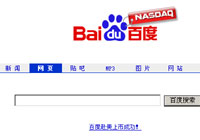 The Beijing-based company late Thursday priced an initial public offering of its American depositary shares (ADS) at $27 each, having raised its price range to $23 to $25 per ADS from $19 to $21 as its offer generated strong investor interest.
Baidu.com shares soared as soon as its shares began trading on Nasdaq on Friday morning, hitting an intraday high of $151.21. The company trades under the symbol "BIDU."
According to IPOhome.com, a Web site run by investment firm Renaissance Capital, Baidu was the most successful initial public offering since chip company Marvell Technology surged 278 percent on its first day of trading in June 2000.
Comparisons between the Beijing-based company and world search leader Google Inc., which owns 2.6 percent of Baidu, had sparked strong interest in the offering, the first U.S. listing for a pure-play Chinese search engine company.
Expectations ran high after Google's share price more than tripled since it went public a year ago.
"People are buying shares in Baidu because of Google," said Tat Au Yeung, managing director of Apex Capital Management in Hong Kong. "But the pricing looks expensive."
But even analysts who expected a strong market debut were stunned on Friday.
"It's just been amazing. It could be over-enthusiasm, it could be the way Google charted, but there is obviously a lot of speculative buyers who think this could be an Asian Google," said Sal Morreale, who tracks IPOs for Cantor Fitzgerald. "Google was the last debut to come out so strong. It really is reminiscent of the go-go years of the late 1990s."
After generating a wealth of investor demand, Baidu on Wednesday raised its indicative price range to $23 to $25 from $19 to $21 per ADS and increased its offering to 4.04 million American depositary shares, from 3.7 million.
Analysts have questioned Baidu.com's high valuation, which is largely based on assumptions of strong growth in China.
Baidu sold 12.5 percent of its enlarged share capital at 540 times historical earnings per ADS of $0.05 each. By comparison, Google and Chinese Web portal Sina Corp. trade at 87 times and 32 times 2004 earnings, respectively.
But Baidu, with a market value about one-hundredth of Google's, offers better growth prospects as China now accounts for just a tiny fraction of the $8 billion global search market.
Baidu generated earnings of 12 million yuan ($1.48 million) on revenues of 111 million yuan in 2004, compared to a net loss of 8.9 million yuan in 2003.
Its earnings in the first quarter jumped 140 percent to 2.5 million yuan from the year-ago period, according to a filing.
Baidu said it will use funds from the IPO to develop or buy new technology and products and general corporate purposes.
Five-year-old Baidu, whose name comes from an ancient Chinese poem about a man in search of love, is the clear leader in China's search market, which was worth about $150 million last year, according to new media consultant Shanghai iResearch, but is forecast to grow rapidly in the next few years.
China is the world's second-largest Internet market with about 100 million users, but e-commerce is still relatively underdeveloped, largely due to lack of effective payment channels. The number of Internet search users is projected to grow to 187 million in 2007, according to iResearch.
Google and its rival Yahoo are eyeing Baidu's fledgling home market and domestic competition is growing with search engines recently launched by two Chinese Internet veterans, Sohu.com Inc. and Sina Corp.
| | |
| --- | --- |
| | |
| Coal mine flooding traps 102 in Guangdong | |

| | |
| --- | --- |
| | |
| New Silk Road Model Look beauty pageant | |

| | |
| --- | --- |
| | |
| Two killed in landslide | |
Today's Top News
Top China News

Coal mine flooding traps 102 in Guangdong




Bank of China eyes 4 foreign investors - report




Crew safe after mini-submarine surfaces




Matsa kills seven, causes billions in losses




North Korea talks suspended for three weeks




China's google Baidu soars in Nasdaq debut