Officials sacked for deception on pig diseases
By Huang Zhiling (China Daily)
Updated: 2005-08-08 05:31
ZIZHONG: Four officials have been sacked for deception and failing to do their jobs properly during the fight against the spread of streptococcus suis from pigs to people.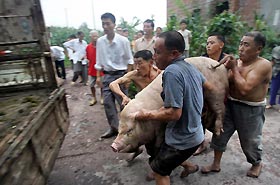 Farmers load a pig onto a truck to be taken to a quarantine centre in Ziyang on July 31, 2005. [AFP]

The workers lost their jobs in Zizhong County in Southwest China's Sichuan Province, where 39 people had been killed by the epidemic by noon yesterday.

At least 200 people have contracted the disease. Last night there were still 101 people in hospital, 10 in a serious condition.

Between July 15-24, 78 pigs died in Zizhong near Ziyang, the city which reported the first case of the pig-to-human streptococcus suis on June 24. Li Mingzhong, chief of the county's animal husbandry and food bureau, and his colleagues are said to have fabricated a report that the pigs were either deeply buried or slaughtered, or their whereabouts were unknown.

On July 27, State officials inspecting the epidemic asked Li's office to verify the whereabouts of six of the 78 pigs. But Li and his colleagues did not do so. Three days later, reporters from China Central Television, who were reporting the epidemic in the county, looked more deeply into the matter.

Li, Liu Wei, chief of the county animal epidemic prevention and supervision station, Jiang Xiaogang, deputy chief of the same station and Chen Bin, chief of the Taiping Town animal husbandry and veterinary station, took the reporters to the homes of six farmers whose pigs had died of the illness. The apparent aim was to see how the pigs were "properly disposed off." But the reporters discovered the truth did not fit with what the officials claimed.





| | |
| --- | --- |
| | |
| New Silk Road Model Look beauty pageant | |

| | |
| --- | --- |
| | |
| Two killed in landslide | |

| | |
| --- | --- |
| | |
| Typhoon Matasa hits east China | |
Today's Top News
Top China News

Crew safe after stranded mini-submarine surfaces




Coal mine flooding traps 102 in Guangdong




North Korea talks suspended for three weeks




Matsa kills 7, causes billions in losses




Officials sacked for deception on pig diseases




FM: G4 plan not to get wide support