Zawahiri video will worry intelligence chiefs
(AFP)
Updated: 2005-08-05 09:54
LONDON (AFP) - Al-Qaeda number two Ayman al-Zawahiri's video threats to Britain and the US will jangle nerves amongst Western intelligence chiefs, as his words are usually followed by acts, a terror expert said.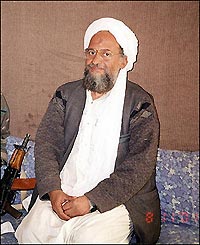 Picture dated 08 November 2001 shows Saudi dissident Osama bin Laden's deputy Ayman al-Zawahiri at his hideout at an undisclosed location in Afghanistan.[AFP]

Osama bin Laden's right-hand man in the global terror network warned the Western allies they risked losing thousands of lives if they did not pull out of Iraq.

"The intelligence services always worry when either bin Laden or al-Zawahiri pop up on their radar screen because within a few weeks there's usually some type of action," said Magnus Ranstorp, head of the Centre for the Study of Terrorism and Political Violence at the University of St Andrews in Scotland.

"They're particularly nervous about him appearing. There is a correlation: when he appears, something usually happens. Combined with the current environment, that does not bode well," he told AFP.

In the videotape aired Thursday, al-Zawahiri said British policies would bring "more destruction", exactly four weeks after the July 7 bombings that killed 52 innocent people and wounded around 700 more in London.

In his previous video appearance aired in June, al-Zawahiri singled out Egypt for criticism. The country's Sharm el-Sheikh resort was hit on July 22 in blasts that killed at least 67 people.

In the new footage, al-Zawahiri appeared to be standing outside with an assault rifle at his side.

Western intelligence chiefs will scour the video for clues and judge its significance and seriousness, Ranstorp said.

"Is it a direct activation of cells he may have contact with? That's through body language, dissecting the phraseology, where the emphasis is.

"Is it just a clarion call for action to inspire like-minded extremists to strike again against the West?

"Or is it just psychological warfare to amplify the violence on the ground?"

Ranstorp said it was likely al-Zawahiri's threat to Britain was cashing in on the London carnage, where three subway trains and a bus were hit.

Though transport networks are on the classic Al-Qaeda target list, "he's probably riding on the bandwagon," he said.

However, he warned: "When a legendary figure like him appears, people sit up and listen. Certainly it may inspire some of his cells into action.

Even if the threatened "destruction" does not materialise, Ranstorp said warnings and taunts were part of the terrorists' attempt at balancing bloodshed and psychological warfare.

"He's made threats before that haven't materialised. He's mentioned Norway and Nigeria before.

"A threat like this doesn't lose its credibility if nothing happens because the uncertainty of something happening is usually much greater.

"Even if a small thing happens, in this type of environment it will amplify it a thousand-fold and the fear factor will spread tremendously."




| | |
| --- | --- |
| | |
| Japanese PM launches general election campaign | |

| | |
| --- | --- |
| | |
| Katrina slams US Gulf Coast, oil rigs adrift | |

| | |
| --- | --- |
| | |
| Japan's 6 parties square off in TV debate | |
Today's Top News
Top World News

President Hu Jintao: Gender equality crucial




Special grants offered to poor students




EU takes steps to unblock China textiles




Farmers sue county for illegal land use




Search for 123 trapped miners suspended




Hurricane Katrina rocks New Orleans