Blair meeting rival Northern Ireland leaders to discuss peace
(AP)
Updated: 2005-08-04 15:39
British Prime Minister Tony Blair scheduled separate meetings Thursday with Gerry Adams and Ian Paisley, the leaders of Northern Ireland's two major rival parties, in hopes of building on the Irish Republican Army's week-old peace declaration, AP reported.
Blair was meeting first with Paisley, whose Democratic Unionist Party represents most of the province' British Protestant majority - and has denounced Britain's decision to launch a wave of military cutbacks in immediate response to the IRA peace. Adams then was to lead a delegation from his IRA-linked Sinn Fein party to Blair's Downing Street office.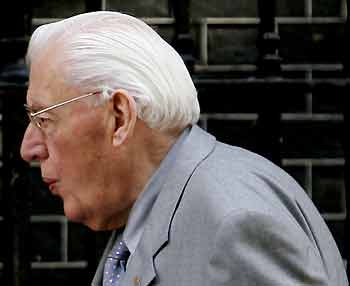 Leader of Northern Ireland's Democratic Unionist Party, Ian Paisley, arrives for talks with Britain's Prime Minister Tony Blair at 10 Downing Street in London, August 4, 2005. [Reuters]

Last Thursday, the IRA declared it had made its 1997 cease-fire permanent and promised to resume disarming soon. Britain on Monday published a plan for slashing its 11,000-strong garrison in Northern Ireland to 5,000 within the next two years - and drew particular Protestant anger by announcing that three locally recruited, overwhelmingly Protestant army battalions would be disbanded.

Blair is hoping eventually to persuade Paisley's party to form a power-sharing administration in Northern Ireland alongside Sinn Fein, but Paisley says his party is unlikely even to talk directly to Sinn Fein, much less share a Cabinet table.

A cross-community administration was the central goal of Northern Ireland's 1998 peace accord, but a moderate-led coalition fell apart in 2002 after suffering repeated breakdowns over IRA activities. Since then, voters have switched majority support to the Democratic Unionists and Sinn Fein, giving those two parties veto power over any revival of power-sharing.




| | |
| --- | --- |
| | |
| Japanese PM launches general election campaign | |

| | |
| --- | --- |
| | |
| Katrina slams US Gulf Coast, oil rigs adrift | |

| | |
| --- | --- |
| | |
| Japan's 6 parties square off in TV debate | |
Today's Top News
Top World News

President Hu Jintao: Gender equality crucial




Special grants offered to poor students




EU takes steps to unblock China textiles




Farmers sue county for illegal land use




Search for 123 trapped miners suspended




Hurricane Katrina rocks New Orleans