In the mood for oriental siren Zhang Ziyi
By ELIZABETH WEITZMAN (New York Daily)
Updated: 2005-08-04 14:48
FEELING LONELY
She could be referring to challenges of both the physical and emotional kind. As Nick James says, pointing to Zhang's varied resume, she is "equally poised whether standing very still or flying across the room."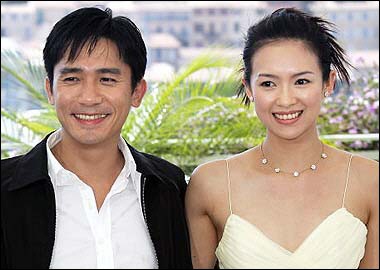 Hong Kong heart-throb Tony Leung (L) and Chinese starlet Zhang Ziyi, seen here together in 2004, have picked up acting awards voted for by local film critics. [AFP/File]


Zhang's deceptively restrained performance in "2046" offered her the chance to meditate on relationships.

The night before our interview, she says, she was walking through the airport and realized that "our profession is very lonely. Because you can't have the common human life. You can't be with your love, your friends. I always go around this city for a few days, that city for a few hours. Sometimes, suddenly, I just feel that it's really sad. So I think right now I just [can't] have any life. Well, a young girl's life."

But is the tradeoff worth it?

"Yes!" she says. "The movies can give me a lot of things, a lot of happiness, a lot of confidence, a lot of - " she looks to her translator to make sure she's choosing the right word, and nods, "satisfaction."

Star File: Zhang Ziyi

Born: Feb. 9, 1979, in Beijing.

Parents: Zhang Yuan Xiao, economist; Li Zhou Sheng, schoolteacher.

Siblings: An older brother, advertising agency owner.

Relationships: Previously linked to Fok Kai San, the grandson of Hong Kong businessman Henry Fok, and also Zhang Yimou, her director on "The Road Home," "Hero" and "House of Flying Daggers."

Education: Attended dance school as a child and later the China Central Drama College in Beijing.

Key films: "The Road Home" (1999), "Crouching Tiger, Hidden Dragon" (2000), "Rush Hour 2" (2001), "The Legend of Zu" (2001), "Musa" (2001), "Hero" (2002), "Purple Butterfly" (2003), "My Wife Is a Gangster 2" (2003), "House of Flying Daggers" (2004), "Jasmine Flower" (2004), "2046" (2004), "Princess Raccoon" (2005), "Memoirs of a Geisha" (2005).





| | |
| --- | --- |
| | |
| Sammi Cheng vies for Venice best actress | |

| | |
| --- | --- |
| | |
| Kidman to lead in 'Invasion' | |

| | |
| --- | --- |
| | |
| Aniston 'shocked' about Pitt and Jolie | |
Today's Top News
Top Life News

Washington and Beijing will unite to block G4 plan




Imports of crude oil expected to slow down




Roadside bomb kills 14 US marines in Iraq




Beijing welcomes talks on charter flights




Six-party talks totter into no man's land




Pork low on menu as fears stay high