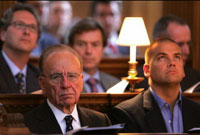 Media mogul Rupert Murdoch (L) and his eldest son Lachlan (R), who last week resigned from the family's News Corporation, have denied reports the departure is related to a dispute over inheritances, reports say(AFP/File/Odd Andersen)
Media industry insiders buzzed over the possibility of palace intrigue at News Corp. after CEO Rupert Murdoch's oldest son and heir apparent, Lachlan, said on Friday he'll resign on Aug. 31 to return to Australia with his wife and son.
Lachlan Murdoch - a 33-year-old Princeton graduate known for his good looks, a prominent tattoo on his left forearm and his marriage to a Sports Illustrated swimsuit model - said he'll remain on News Corp.'s board and serve as a consultant.
The elder Murdoch said in a statement that he is "saddened" by his son's unexpected decision to step down.
As a practical matter, though, Lachlan's departure will have a "minimal impact" on the company, Merrill Lynch analyst Jessica Reif Cohen says.
Lachlan Murdoch is deputy chief operating officer and reports to his father. But the elder Murdoch depends heavily on COO Peter Chernin to run key operations at the global film, TV programming and publishing empire, which generated an estimated $23.7 billion in revenue in the fiscal year ended in June.
Lachlan oversees slower-growing units, including Fox's 35 television stations and book publisher HarperCollins. He's probably best known for his work as publisher of the feisty New York Post tabloid
Still, his decision to leave reignited speculation over whether BSkyB CEO James Murdoch, 32, or Elisabeth Murdoch, 36, who runs a London-based production company called Shine, might now be groomed to take over when Rupert, 74, gives up the reins.
James "should eventually take control, but not until Mr. Chernin decides to leave the company and/or the board deems him 'ready,' " Cohen wrote in a report.
Others say it's too early to count Lachlan out.
"One of the benefits of being a Murdoch at News Corp. is that the option of succession is always open to you," says UBS Investment Research's Aryeh Bourkoff.
Many investors started to lose confidence in Lachlan after 2001 when he made a big investment in an Australia telecom company that collapsed. He was caught in another embarrassing snafu when the Post reported on its front page that Democratic presidential candidate John Kerry had chosen Dick Gephardt as his running mate. Kerry picked John Edwards.

(Agencies)
上周五(7月29日),新闻集团首席执行官鲁珀特·默多克的长子、财产继承人拉赫兰突然宣布,他将于8月31日离职,携妻儿返回澳大利亚居住。这引起了传媒业内人士对这个传媒帝国内部继承权之争的种种可能性的猜测。
现年33岁的拉赫兰·默多克早年毕业于普林斯顿大学,一表人才,其左前臂上刻有醒目的纹身,并与《体育画报》的一位泳衣模特喜结良缘,这些都曾让他声名远扬。在宣布离开新闻集团的同时,他表示仍将留任新闻集团董事会成员,担任顾问之职。
老默多克在一份声明中说,儿子突然辞职的决定让他感到非常难过。
美林公司的分析师杰西卡·芮夫·科恩说,实际上拉赫兰的辞职不会对新闻集团的运营产生太大的影响。
拉赫兰·默多克目前担任公司副首席运行官一职,向其父亲负责。不过,老默多克主要依靠首席运营官彼得·彻宁来掌管这个全球电影、电视与出版帝国的主要运营活动。在截止到6月份的2005财年中,公司收入达到了预期的237亿美元。
而拉赫兰管理着一些发展缓慢的部门,包括福克斯旗下的35家电视台及哈珀·柯林斯图书出版社。不过,最令他出名的工作可能还是作为猎奇小报《纽约邮报》的发行人之职。
然而,拉赫兰的离职再一次引起了人们对这个媒体帝国继承人的猜测——当74岁高龄的鲁珀特卸任之后,詹姆斯·默多克和伊丽莎白·默多克之间到底谁才能接管新闻集团。目前,32岁的詹姆斯担任天空广播的首席执行官,而36岁的伊丽莎白则经营着位于伦敦的一家名叫夏恩的制作公司。
"詹姆斯最终将会控制整个公司,但是这得等彻宁先生决定离开公司之后,或者董事会认为他能够担此大任的时候。"科恩在一份报告中写道。
其他人则表示,现在就认定拉赫兰在继承人之争中已经出局为时尚早。
"在新闻集团,成为默多克家族中的一员的一大好处就是,继承权的大门永远都是敞开的。" 瑞士银行投资研究部的阿里耶·波尔科夫说。
不过,2001年之后,许多投资者开始对拉赫兰失去信心,因为他巨额投资了一家澳大利亚电信公司,但这家公司不久即宣布倒闭。后来,他陷入了另外一个令人尴尬的混乱局面,因为《纽约邮报》头版报道说民主党总统候选人约翰·克里选择迪克·格普哈特为竞选伙伴,而实际上克里选择的是约翰·爱德华兹。
(中国日报网站译)