China in last-ditch bid to save nuclear talks
(Reuters)
Updated: 2005-08-03 15:38
China made a last-ditch effort on Wednesday to rescue six-party talks on the Korean nuclear crisis, deadlocked after more than a week of wrangling over ways of ending Pyongyang's weapons programs, the Reuters reported.
As some delegates talked openly of breakdown in Beijing, the hosts offered a fourth draft of a proposed joint statement on which the success of the talks, now in their ninth day, is now riding.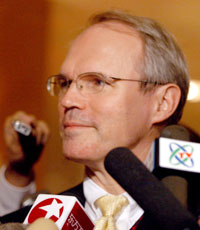 U.S. Assistant Secretary of State for East Asian and Pacific Affairs and top U.S. negotiator for the six-party talks Christopher Hill speaks to journalists at a hotel in Beijing August 3, 2005. [Reuters]
Top South Korean negotiator Song Min-soon said the latest draft contained statements on the dismantling of North Korea's nuclear programs and matching measures by the other parties.
Points included supplying the North with heavy fuel oil and electricity, a provision on the peaceful use of nuclear energy by Pyongyang, and normalisation of its relations with the United States and Japan.
Seoul's Yonhap news agency said it also contained points on security guarantees and verification.
Japanese chief negotiator Kenichiro Sasae told reporters: "At last the negotiations have come to a crucial stage. We will do our best to reach an agreement but it depends largely on North Korea's stance."
With tensions high, Chinese Foreign Minister Li Zhaoxing and Secretary of State Condoleezza Rice spoke by telephone on Wednesday. The Foreign Ministry said the pair had exchanged views on Sino-U.S. relations and "issues of common concern."
Negotiators from the two Koreas, the United States, Russia, Japan and China remain at loggerheads on the issue of when Pyongyang should dismantle its programs -- before, or after, it receives U.S. security guarantees and aid.
After days of six-way wrangling over China-proposed drafts, the U.S. delegation was questioning whether the parties should just agree to disagree or return to their capitals with the latest draft text for consultations.
"I would say it is getting to an end-game text," top U.S. negotiator Christopher Hill told reporters on Wednesday. "I don't know at this point whether we will get it to an agreed text, but I think it's getting to an end-game text."
RED LINES
"I think it is a very important text because it is truly designed to narrow the differences and maybe even get to the point where we can agree on something," the American envoy said, but added: "I think everyone knows where the red lines are. It should be the final text."
Earlier the Russian news agency Interfax had quoted North Korean officials as saying that, if no agreement was reached on Wednesday, the talks could be considered a failure.
The crisis erupted in October 2002 when U.S. officials confronted North Korea with evidence it was violating international protocol by pursuing a clandestine uranium enrichment weapons program.
The North Koreans responded by throwing out U.N. weapons inspectors, abandoning the nuclear non-proliferation treaty and restarting their mothballed Yongbyon reactor.
The stakes rose in February, when Pyongyang announced it now had nuclear weapons and demanded aid, assurances and diplomatic recognition from Washington in return for scrapping them.
Four rounds of six-party talks have been held since 2003. The latest has been the most promising in terms of an unprecedented level of contact between the United States and North Korean delegations and the length of debate over the joint statement.
Whether the parties can agree on any form of statement, however bland, before the talks break up, remains to be seen.
North Korean Vice Foreign Minister Kim Kye-gwan, in his first public comments since the talks began on June 26, told reporters late on Tuesday that Pyongyang's decision on whether to abandon its weapons programs hinged on Washington.
He insisted that the United States end its nuclear threat to the North and work to establish trust.
Washington, which keeps more than 30,000 troops in South Korea, denies it poses any such threat. Reports said North Korea felt U.S. military installations in Japan did so.
North Korea sought to underscore its own military capability on Wednesday with a report that leader Kim Jong-il had visited an army unit near the Demilitarised Zone bisecting the peninsula.
The official KCNA news agency did not say when Kim visited the troops.The report said he had also inspected a duck farm run by soldiers to supplement their diet.
| | |
| --- | --- |
| | |
| 60-meter-long bridal gown | |

| | |
| --- | --- |
| | |
| Experimental satellite takes off from Jiuquan | |

| | |
| --- | --- |
| | |
| Four killed in Guangdong building collapse | |
Today's Top News
Top China News

China in last-ditch bid to save nuclear talks




Japan lawmakers revise wartime policy




Military drill aims to deepen mutual trust




CNOOC drops bid for Unocal




Soft landing seen for China's economy




All aboard survive Airbus Canada crash