Student expelled for sharing bed with girl friend sues
(Shanghai Daily)
Updated: 2005-08-02 09:55
A 19-year-old student who was expelled from Shanghai University in April after teachers found his girlfriend had spent the night in his dorm hired a lawyer yesterday, who will demand the university reinstate Zhu Bin or issue a letter allowing him to transfer to a different school.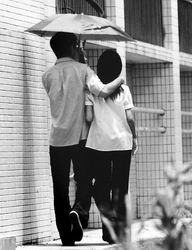 Young Lovers at campus are not rare phenomena in China nowadays. [newsphoto/file]

Li Peifang, Zhu's attorney, said she will send letters to Shanghai University, and the Shanghai Education Commission within a few days to ask for formal feedback about two arguable points in the expulsion.

Zhu, a first-year student in SHU's Bashi Automobile College, was found in bed with his girlfriend in his dorm by his teachers on the morning of March 24.

Although Zhu explained that his girlfriend was nursing him while he was sick, and nothing improper had happened, the school said he had violated regulations and expelled him.

Zhu and his parents later met with teachers at the college and the university several times, in a vain attempt to get Zhu reinstated.

Xia Jinrong, Zhu's mother, said that she has found a private university that agreed to accept her son if SHU issues a transfer letter. So far, the school has refused to issue the letter.

"We are desperate," Xia said.

The attorney said the university didn't follow proper legal procedures before expelling Zhu.

"People have the right to ask for an appeal within five working days after they receive an expulsion notice and the punishment will only take effect after a reexamination decision is issued," Li said.

SHU gave an expulsion notice to Zhu on April 30, and he appealed on May 10, which was the third working day excluding the weeklong Labor Day holiday.

But the school never issued a reexamination decision, Li said.

She notes that new student management regulations issued by the Ministry of Education say schools should try to avoid expulsion if a student shows penitence for breaking the rules.

But SHU ignored Zhu's repeated pleas.

Zhu's mom said her son lost his job as a data entry clerk after six days on the job, when his boss learned he had been expelled from school. He currently works at another company for 5 yuan (62 US cents) an hour - less than the city's minimum wage of 6 yuan. He has broken up with his girlfriend, who is still enrolled at a different school.

| | |
| --- | --- |
| | |
| Jay Chow to shelve second movie | |

| | |
| --- | --- |
| | |
| Nicholas Tse to become TV host | |

| | |
| --- | --- |
| | |
| Miss Intercontinental beauty Pageant | |
Today's Top News
Top Life News

Military drill aims to deepen mutual trust




CNOOC drops bid for Unocal




N. Korea talks may end without agreement




Soft landing seen for China's economy




All passengers survive Airbus Canada crash




Hisense mulls over Kelon purchase