China proposes new draft at nuke talks
(AP)
Updated: 2005-08-02 07:36
The U.S. envoy to nuclear talks with North Korea said Monday that China has proposed a new draft of a joint statement after weekend discussions were snarled by the North's demands for what it should receive in exchange for disarming, the AP reported.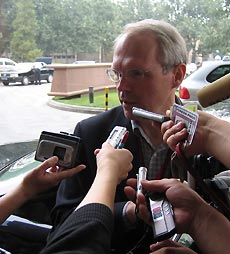 Christopher Hill, U.S. Assistant Secretary of State and chief negotiator for the six-party talks, at his hotel in Beijing August 1, 2005. Delegates toiled in vain on August 1, failing to thrash out a consensus statement laying down even minimal principles for an eventual settlement. [newsphoto]

The new draft, submitted late Sunday, "reflected all sides' modifications" to the first Chinese-written draft, said U.S. Assistant Secretary of State Christopher Hill. He wouldn't give any details, but said, "I think the process is going forward rather well."

Deputy heads of delegations discussed the new proposal for 3 1/2 hours Monday, South Korea's No. 2 nuclear envoy said.

"Some issues have been sorted out but there remain many issues that we should continue to work on," Cho Tae-yong said. "We are moving steadily forward."

Chief delegates will discuss the draft Tuesday, he said.

The statement of basic principles is meant to lay the basis for future talks aimed at ending the three-year-old standoff over demands that the North give up nuclear development. The talks involve the two Koreas, the United States, Japan, host China and Russia.

The United States and North Korea also held direct talks twice Monday, said a South Korean official, who spoke on condition of anonymity because they are not authorized to talk to the media for attribution. The frequent and in-depth discussions between Washington and Pyongyang have been a big change from previous six-nation talks.





| | |
| --- | --- |
| | |
| The Guanling cattle market | |

| | |
| --- | --- |
| | |
| Fruits from Taiwan -- duty free | |

| | |
| --- | --- |
| | |
| China, US hold first strategic dialogue | |
Today's Top News
Top China News

China's yuan sets another mark




China proposes new draft at nuke talks




US says could seek China textile deal




China's economy sends slowdown signals




China, US hold first strategic dialogue




Bush appoints Bolton, bypassing Senate