China, US hold first strategic dialogue
(Xinhua)
Updated: 2005-08-01 11:37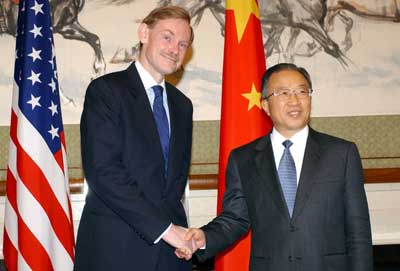 Chinese Vice Foreign Minister Dai Bingguo (R) and US Deputy Secretary of State Robert Zoellick shake hands before the first strategic dialogue in Beijing August 1, aiming to facilitate bilateral relations. The closed-door dialogue was co-chaired by Dai and Zoellick.[Xinhua]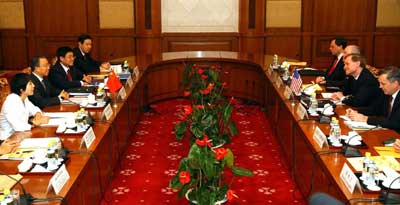 Chinese Vice Foreign Minister Dai Bingguo and US Deputy Secretary of State Robert Zoellick co-chair the first strategic dialogue in Beijing August 1, aiming to facilitate bilateral relations. [Xinhua]
China and the United States started their first strategic dialogue in Beijing on Monday morning, aiming to facilitate bilateral relations.
The closed-door dialogue was co-chaired by Chinese Vice Foreign Minister Dai Bingguo and US Deputy Secretary of State Robert Zoellick, who arrived in Beijing Sunday.
Chinese Premier Wen Jiabao met with Zoellick on Sunday, and exchanged views on Sino-US relations and international issues of common concern, according to Chinese Foreign Ministry.
During his stopover in Hong Kong, Zoellick said he would discuss foreign policy and economics with senior Chinese officials in Beijing.
The dialogue came as a result of the consensus reached between Chinese President Hu Jintao and US President George W. Bush during the Asia-Pacific Economic Cooperation (APEC) Summit in Chile last year.