Bride-trafficking grows as the number of single men soars
By David Eimer in Beijing (independent.co.uk)
Updated: 2005-08-01 11:25
When 16-year-old Qing Yang was kidnapped in Sichuan province last year and sold for ¡ê360 to a desperate bachelor, it took her family and a private detective six months to track her down in Jiangsu province, hundreds of miles away. By then, she had been raped and forced to live as the wife of the man who bought her.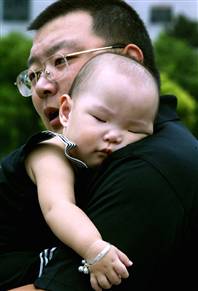 A Chinese father carries his child at a park in Shanghai on September 8th. Urban couples generally feel ease at their babies' sex while most in the vast countryside favor boys. [AP]

Qing's story, highlighted in a BBC documentary, is all too common in China, where "wives", mostly young girls from rural areas, can be acquired for between about ¡ê500 and ¡ê2,000. Despite a government crackdown on bride-trafficking that has seen some 42,000 women rescued over the past four years, many more are never found.

The resurgence in the trade in wives comes as China faces an acute lack of women. So serious is the dearth of females that it is estimated that by 2020, 40 million men will be forced to remain bachelors.

The shortage of women has the government scrambling to redress the balance. Under the Care for Girls programme, financial incentives are being offered to families who have daughters, helping them to pay for education and medical costs. Last week it was announced that female astronauts are to be recruited for China's space programme, in an effort to create positive female role models and reverse the traditional Chinese preference for boys over girls.

"It dates back to feudal society," said Professor Zhu Chuzhu of Xi'an Jiaotong University, who has been studying China's gender imbalance since the mid-1990s. "The idea that boys are more important than girls has been rooted in people's minds for thousands of years. It's difficult to change that culture, especially in rural areas where people are less educated."

The prospect of tens of millions of lonely, disgruntled single men, known in China as guang guan, or "bare branches", is alarming the government, which fears the effect they will have on social stability.





| | |
| --- | --- |
| | |
| Jay Chow to shelve second movie | |

| | |
| --- | --- |
| | |
| Nicholas Tse to become TV host | |

| | |
| --- | --- |
| | |
| Miss Intercontinental beauty Pageant | |
Today's Top News
Top Life News

Military drill aims to deepen mutual trust




CNOOC drops bid for Unocal




N. Korea talks may end without agreement




Soft landing seen for China's economy




All passengers survive Airbus Canada crash




Hisense mulls over Kelon purchase