Nuclear talks enter uncharted territory
(Reuters)
Updated: 2005-07-30 15:23
North Korea nuclear crisis talks entered uncharted territory on Saturday, with host China presenting a draft joint statement for discussion by the six parties in the longest negotiating session yet, Reuters reported.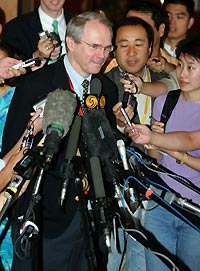 Christopher Hill (front L), U.S. Assistant Secretary of State for East Asian and Pacific Affairs and top U.S. negotiator for the six-party talks, speaks to journalists at a hotel in Beijing July 30, 2005. [Reuters]

The main protagonists, the United States and North Korea, appear as entrenched as ever, diplomats say, with Pyongyang sticking to its demands for security guarantees and aid and Washington insisting the nuclear programmes be dismantled first.

The North had even rejected a South Korean offer of energy aid in exchange for scrapping its nuclear programmes, the JoongAng daily said, citing an official in Seoul. North Korea wants the energy aid and light-water nuclear reactors too, it said.

Still, the first round of six-way talks in more than a year has seen an unprecedented level of contact between the U.S. and North Korean sides, who have met for talks six times already this week after refusing to budge from scripted position statements in three previous rounds.

"I have the impression that the United States and North Korea have deepened their understanding of each other's positions after hours and days of bilateral discussions," a Japanese delegate said on Saturday.

"But I believe the two sides remain far apart," he said. "Our work to draft a joint document will get into full swing today."





| | |
| --- | --- |
| | |
| Leshan giant buddha | |

| | |
| --- | --- |
| | |
| Explosion near Sanlitun | |

| | |
| --- | --- |
| | |
| Tornado occurs off the waters of Zhejiang | |
Today's Top News
Top China News

President Hu Jintao: Gender equality crucial




Special grants offered to poor students




EU takes steps to unblock China textiles




Farmers sue county for illegal land use




Search for 123 trapped miners suspended




Hurricane Katrina rocks New Orleans