Discovery docks with Space Station
(Xinhua)
Updated: 2005-07-28 19:48
The US space shuttle Discovery on Thursday successfully docked with the International Space Station (ISS), two days after blasting into space on the first space shuttle mission since the Columbia disaster in 2003.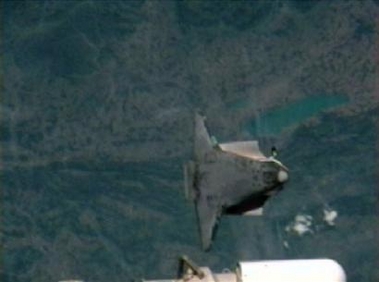 The space shuttle Discovery performs a 360-degree backflip to enable the crew aboard the ISS to photograph the underside of the shuttle in this view from television Thursday, July 28, 2005. [AP]
After reaching the the doorstep of the ISS, the shuttle performed an unprecedented back flip to allow those aboard the outpost to photograph the shuttle's belly for signs of damage.
"Everything that we see at this point says that the orbiter is in fact a clean bird," NASA Administrator Michael Griffin said after the somersault.
Discovery was just 180 meters beneath the station when Commander Eileen Collins manually steered the shuttle's nose upward and slowly flipped the spacecraft over.
The maneuver came after a huge setback Wednesday, when NASA decided to ground future shuttle flights because a chunk of insulating foam flew off Discovery's fuel tank during liftoff as it did in Columbia's doomed mission.
Discovery was the first shuttle to return to orbit since Columbia broke apart over Texas as it returned to Earth on February 1, 2003. All seven astronauts aboard died.
| | |
| --- | --- |
| | |
| American women call for end of war | |

| | |
| --- | --- |
| | |
| Israeli forces storm Gaza settlement | |

| | |
| --- | --- |
| | |
| South Korean, DPRK separated families hold video reunions | |
Today's Top News
Top World News

Guangzhou oil supply 'returning to normal'




First joint drill with Russia launched




Scotland bank in US$3.1b deal for BOC stake




China-US textile talks make progress




Opinion: Corruption has to stay capital crime




'Bird flu may cause global economic mayhem'