'China's rise an opportunity, not a threat'
(Reuters/chinadaily.com.cn)
Updated: 2005-07-28 16:53
China's rapid development is an opportunity rather than a threat to the world, State Councillor Tang Jiaxuan said in Washington Wednesday, seeking to stem a rising tide of anti-Beijing sentiment in the United States, Reuters reported.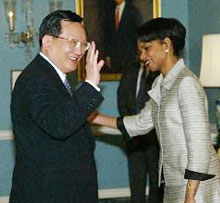 Chinese State Councillor Tang Jiaxuan (left) meets with U.S. Secretary of State Condoleezza Rice in Washington July 27, 2005. [Xinhua]

Tang advised Americans not to "politicize" or "get emotional" about trade issues at a luncheon sponsored by the National Committee on U.S.-China Relations and the U.S.-China Business Council, according to the report.

China would enhance the protection of intellectual property rights and promised to work with the U.S. to promote world peace, Tang was cited as saying.

Anti-China sentiments have been rising, mostly in the U.S. Congress, over worries about China's expanding economic might, its growing trade surplus with the United States and a steady military buildup.

"China's development is an opportunity instead of a threat to the world. That is becoming the consensus of the international community," Tang reportedly said.

"The more China gets developed, the more it can contribute to world peace, stability and prosperity and the more opportunities it can bring to the rest of the world," he said.

The State Councillor noted that with China now the United States' third largest trading partner and fastest growing export market, frictions are expected but the two sides must "work out the problems with equal-footed consultations and strive for a win-win result," according to the report.

"To politicize trade issues or to get emotional about them does not help solve problems," he added.

Tang said China does not strive for a prolonged trade surplus with the United States and is determined to make good on its World Trade Organization commitments .

"The Chinese government attaches great importance to IPR (intellectual property rights) protection and will step up measures in this regard," he said.

Answering questions after his speech, Tang said the United States and China had a shared duty and responsibility to ensure the six-party talks produce "real progress" in this round and advance regional stability.

He expressed confidence that ultimately, the Korean peninsula will realize its independent and peaceful reunification.





| | |
| --- | --- |
| | |
| First Wal-Mart store opens in Shanghai | |

| | |
| --- | --- |
| | |
| 999 roses to offer apology | |

| | |
| --- | --- |
| | |
| Li Zhaoxing attends ASEAN+3 Foreign Ministers Meeting | |
Today's Top News
Top China News

'China's rise an opportunity, not a threat'




NASA stops shuttle flights until hazard fixed




Central bank said cooling yuan down




Skies open wide for pilots from abroad




FM: Nuke talks moving towards right direction




Top leaders take lead in energy-saving drive