Japan dangles threat of cutting UN dues if denied Security Council seat
(AFP)
Updated: 2005-07-28 09:26
Japanese Foreign Minister Nobutaka Machimura warned in United Nations his country would face mounting domestic pressure to cut its contribution to the UN if it was denied a permanent seat on the UN Security Council, reported AFP.
Japan, along with Brazil, Germany and India, is bidding to get a permanent seat along with two African countries in a proposed expansion of the powerful Security Council.
Briefing reporters on the outcome of Sunday's meeting in London between the so-called G4 foreign ministers of Japan, Brazil, Germany and India and an African Union delegation on Security Council enlargement, Machimura referred to a recent town hall meeting in Japan on the issue of UN reform.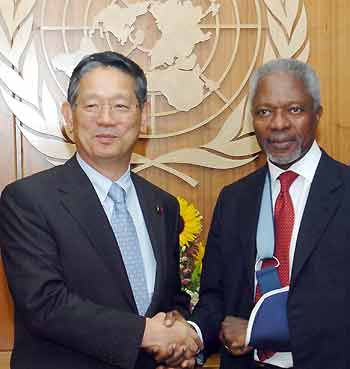 U.N. Secretary General Kofi Annan (R) greets Japanese Minister of Foreign Affairs Nobutaka Machimura at the United Nations headquarters in New York July 27, 2005. [Reuters]

He said one of the participants raised the possibility of a cut in Japan's UN contribution if Japan did not get a permanent council seat.

"I believe that that kind of thinking ... will rapidly proliferate ... This is something that I can easily anticipate," he warned, although he said Tokyo was confident its bid for council membership would ultimately be approved.

Japan argues that it deserves a seat because it is the world's second-largest economy and a major donor, last year setting at 19.5 percent its share of funding for the United Nations.

Only the United States contributes more, at 22 percent. Other permanent members of the Security Council give less than 10 percent each to the UN budget.

Japan and the other G4 members are pinning their hopes on the support of the 53-member African Union for their resolution, which requires two-third majority approval in the 191-member General Assembly for adoption.

Machimura asserted that the London meeting between the G4 and the AU team led by Nigeria's Foreign Minister Olu Adeniji produced a joint resolution combining elements of the separate drafts presented by the two groups in the General Assembly.

The G4 draft, backed by more than 30 countries, including France and Britain, calls for boosting Council membership from 15 members to 25, with six new permanent seats without veto power --- one each for Brazil, Germany, India and Japan and two for the African region, and four non-permanent seats.

The AU is demanding veto power for the two permanent Security Council seats that would be allocated to Africa and for five non-permanent council seats, including two for Africa.

Under a compromise discussed in London, the Africans would drop their demand for veto power and the Security Council would be expanded to 26 members, with the 26th seat circulating among developing countries of Africa, Asia and Latin America and the Caribbean states.

That compromise, which is strongly opposed by North African countries such as Algeria and Egypt, is to be discussed at a special AU summit in Addis Ababa tentatively set for August 4, diplomats here said.

Meanwhile Machimura scornfully dismissed Italy's charge that the G4 was resorting to blackmail in its bid to secure permanent seats on the Security Council.

He called it "negative campaigning" and added: "I would not want to sink that low."




| | |
| --- | --- |
| | |
| American women call for end of war | |

| | |
| --- | --- |
| | |
| Israeli forces storm Gaza settlement | |

| | |
| --- | --- |
| | |
| South Korean, DPRK separated families hold video reunions | |
Today's Top News
Top World News

Guangzhou oil supply 'returning to normal'




First joint drill with Russia launched




Scotland bank in US$3.1b deal for BOC stake




China-US textile talks make progress




Opinion: Corruption has to stay capital crime




'Bird flu may cause global economic mayhem'