Positive signs on first day of nuke talks in Beijing
By Hu Xiao and Qin Jize (China Daily)
Updated: 2005-07-27 06:01
Positive signals emerged on the first day of the Six-Party Talks as two key parties showed apparent flexibility.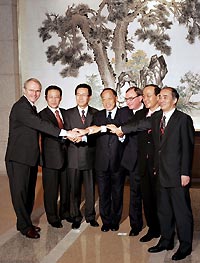 The representatives from the six countries involved in six-party talks on North Korea's nuclear program hold hands as the meeting officially begins in Beijing July 26, 2005. (L-R) U.S. Assistant Secretary of State for East Asian and Pacific Affairs Christopher Hill, North Korean Vice Foreign Minister Kim Gye Gwan, Chinese Vice Foreign Minister Wu Dawei, Chinese Foreign Minister Li Zhao Xing, Russian Deputy Foreign Minister Alexander Alexeyev, South Korea's Deputy Foreign Minister Song Min-soon and Director-general of the Japanese Foreign Ministry's Asian and Oceanian Affairs Bureau Kenichiro Sasae.

At yesterday's opening ceremony, US Assistant Secretary of State Christopher Hill said Washington views the sovereignty of the Democratic People's Republic of Korea (DPRK) as a matter of fact, and has no intention of invading or attacking the country.

DPRK chief negotiator Kim Kye-gwan said Pyongyang is committed to denuclearization of the Korean Peninsula.

The DPRK is prepared to co-operate to achieve "substantial progress" in this round of talks, he said.

"The goal requires a firm political will and a strategic decision by the concerned parties to remove the danger of nuclear war and realize the denuclearization of the Korean Peninsula," he said.

When the DPRK decides to dismantle its nuclear programme "permanently, fully, and verifiably," other parties, including the US, are prepared to take corresponding measures on the principle of "words for words and actions for actions," Hill said, describing the dialogue as being at a "critical juncture."





| | |
| --- | --- |
| | |
| Submarine drill in East China Sea | |

| | |
| --- | --- |
| | |
| 6-party talks start in Beijing | |

| | |
| --- | --- |
| | |
| Surgery on tiger to remove tumor | |
Today's Top News
Top China News

Positive signs on first day of nuke talks in Beijing




Shuttle Discovery blasts into orbit




No drug for disease as death toll hits 24




Further appreciation of renminbi denied




Nuclear industry to seek foreign help




2,500 evacuated after quake kills one