No drug for disease as death toll hits 24
By Zhang Feng in Beijing and Huang Zhiling in Ziyang (China Daily)
Updated: 2005-07-27 06:01
Doctors are yet to find specific drugs to treat the disease that has killed 24 farmers in Southwest China, officials said yesterday.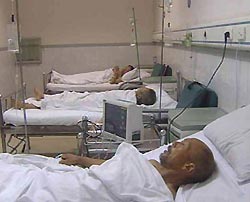 Patients receive treatment in a hospital in Ziyang, Southwest China's Sichuan Province, July 26, 2005. [sina]

The Ministry of Health has blamed Streptococcus suis, a bacteria carried by pigs, for the disease, which broke out on June 24 in the cities of Ziyang and Neijiang in Sichuan Province.

The number of human cases has risen to 117, including 76 confirmed and 41 suspected infections. Among these, 21 patients are in a critical condition.

At the moment doctors are relying on heavy doses of antibiotics to treat patients, but with the death toll mounting it is clear this approach is unsatisfactory.

"The Chinese Centre for Disease Control and Prevention is conducting drug sensitivity tests to find a more effective treatment," said Ministry of Health spokesman Mao Qun'an.

But despite the lack of a reliable treatment, experts believe the outbreak can be dealt with effectively.

The pig-to-human infection can be prevented if people refrain from slaughtering, processing or eating infected pigs, said Chen Huanchun, vice-president of Huazhong (Central China) Agricultural University.

Chen, also a member of the expert group set up by the Ministry of Agriculture to conduct on-the-spot investigations, said the bacteria can only infect people through open wounds or if they digest the infected meat.

Pork prices have dropped 20 per cent in Ziyang, said Cao Jingli, a government employee in Ziyang.

Mao said China has been reporting the situation to the World Health Organization every day, but as yet there has been no response.

Chen said the Guangzhou Animal Biological Medicine Plant is working on a vaccine to protect pigs from the disease, and is expected to produce a viable inoculation in about a week.

After a two-to-three-day safety test, the vaccine will be used widely among pigs, said Chen.





| | |
| --- | --- |
| | |
| Submarine drill in East China Sea | |

| | |
| --- | --- |
| | |
| 6-party talks start in Beijing | |

| | |
| --- | --- |
| | |
| Surgery on tiger to remove tumor | |
Today's Top News
Top China News

Positive signs on first day of nuke talks




Shuttle Discovery blasts into orbit




No drug for disease as death toll hits 24




Further appreciation of renminbi denied




Nuclear industry to seek foreign help




2,500 evacuated after quake kills one