Central bank denies quick rise in RMB value
(Agencies)
Updated: 2005-07-26 14:53
China's central bank tried Tuesday to dampen expectations that it might let the yuan rise quickly in value, saying any changes will come gradually following the decision to break the currency's link to the U.S. dollar.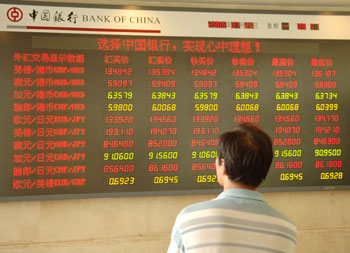 A man looks at an electronic board that show latest foreign exchange rate at a Bank of China branch in Wuxi, East China's Jiangsu Province July 25, 2005. [newsphoto]
A statement issued by the bank denied what it said were mistaken news reports suggesting the government might increase the exchange rate of the yuan.
"Gradualism is one of the important principles in the yuan exchange rate mechanism reform," the statement said. "Gradualism is aimed at the gradual reform of the yuan exchange rate mechanism, not at the gradual adjustment of the level of the yuan exchange rate."
The government's move last week abandoned the yuan's decade-old link to the U.S. dollar and switched to a more flexible system based on a basket of foreign currencies. The government also increased the yuan's value by about 2 percent against the U.S. currency.
The yuan's daily movement is restricted to a 0.3 percent band against that basket.
The yuan opened trading Tuesday on China's foreign-exchange market at 8.1097 to the dollar, up slightly from its level of 8.1111 at the start of trading Monday.
Also Tuesday, People's Daily newspaper said the size of the revaluation last week was determined by China's trade surplus and the ability of its companies to adjust.
The report added to official comments that the change was based on China's economic needs, not pressure from the United States and other trading partners.
"The scope of the 2 percent increase in value was excellent," the People's Daily said. "This whole scope was determined by our country's trade surplus and needs to adjust, while at the same time considering domestic enterprises' ability to adapt."
It didn't give any more details. But foreign news reports on Monday said Chinese leaders considered an initial increase of 5 percent in the yuan's value before deciding on 2 percent after lobbying from ministries worried about the impact on China's exporters.
U.S. and other foreign companies say the yuan is undervalued by anywhere from 15 to 40 percent, giving Chinese exporters an unfair price advantage. American lawmakers had threatened to impose punitive tariffs if China didn't raise the yuan's value.
| | |
| --- | --- |
| | |
| Submarine drill in East China Sea | |

| | |
| --- | --- |
| | |
| 6-party talks start in Beijing | |

| | |
| --- | --- |
| | |
| Surgery on tiger to remove tumor | |
Today's Top News
Top China News

Discovery blasts off on shuttle mission




Central bank denies quick rise in RMB value




6-party talks open, host China urges flexibility




China halts pork exports from 2 cities




Women astronauts set to fly by 2010




Unocal 'almost backed China bid'