China abolishes yuan-dollar peg, adopts floating rate
By Xu Binglan (China Daily)
Updated: 2005-07-22 05:33
In a long-awaited but unexpected move, China yesterday announced that its currency will no longer be pegged to the US dollar.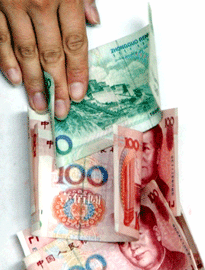 A shopper hands Chinese money to a cashier in Beijing in this May 27, 2004 file photo. China scrapped the yuan's peg to the U.S. dollar on July 21, 2005 and it tied it to a basket of currencies, the central bank said, the first steps in highly anticipated reforms aimed at letting the currency float freely.[Reuters]
From now on the renminbi, or yuan's, exchange rate will be adjusted according to a basket of currencies, the People's Bank of China (PBOC) said, adding that it marked the introduction of "a more flexible mechanism for the exchange rate's formation."
The central bank did not specify what currencies would be in the basket.
The central bank strengthened the exchange rate of the renminbi to 8.11 to the dollar, up from 8.28, where it had been fixed for years, it said in a surprise announcement on the State television evening news.
The change amounts to a 2 per cent appreciation of the renminbi.
The reform is "in the interests of the country's long-term, fundamental interests," the central bank said in a separate statement.
Pursuing a more flexible, market-based foreign exchange system has been on the agenda for the country's economic reform.

| | |
| --- | --- |
| | |
| Typhoon Haitang floods coastal areas | |

| | |
| --- | --- |
| | |
| Wholesalers at vegetable market in Nanjing | |

| | |
| --- | --- |
| | |
| Typhoon Haitang causes huge losses to Wenzhou | |
Today's Top News
Top China News

China abolishes yuan-dollar peg, adopts floating rate




London hit again by terror blasts




China affirms 'no first use' nuke policy




Power plants pushed to boiling point




US$3.1b deals inked to buy 20 Airbus A330s




China's Internet users reach 103 million