China to ease capital controls on companies
(Agencies)
Updated: 2005-07-18 16:13
China plans to further loosen its strict capital controls to boost the competitiveness of its firms overseas, a move which would also relieve building speculative pressure on the yuan.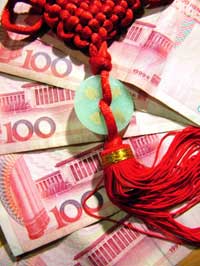 100-yuan renminbi banknotes. A report says that China plans to ease strict capital controls on companies in order to boost the competitiveness of the Chinese firms in the world. [newsphoto]

The State Administration of Foreign Exchange (SAFE) will deepen reforms by improving its management and creating a more supportive foreign exchange framework, Li Dongrong, deputy chief of SAFE, was quoted as saying by Financial News.

"Advancing and deepening the management of foreign exchange and structural reform is required ... so that domestic companies can go overseas and take part in international process of competition," said Li.

The reforms would grant domestic and multinationals in China greater strategic freedom by allowing them to buy more foreign currency as well as lend the money to overseas subsidiaries.

Chinese banks would also be allowed to lend foreign currency to Chinese companies operating in foreign countries directly, Li said.

SAFE would quickly revise foreign exchange rules for companies investing overseas as part of plans put forth late last year that outlined the benefits of looser capital controls for companies, the report said.

"It would be of benefit in reducing financial costs for multinational corporations, it would raise and improve the use of effectively using foreign funds," the report said.

Previously, access was limited to companies based in 24 trial areas, including Shanghai, Beijing, Jiangsu and Zhejiang.

Foreign exchange bureaus in the trial areas will have a US$5-billion quota in 2005, up from US$3.3 billion in 2004, to support local companies, Li said.

He added that every local bureau was authorized to handle any deal valued below US$10 million, up from the previous US$3.3 million allowed in the trial zones.

Earlier this month China's central bank governor Zhou Xiaochuan was quoted as saying by local media that supporting Chinese companies to move into international markets was becoming a key strategy of the country's economic development.

The banking chief also said that China should lift certain foreign exchange controls in the near-term to create conditions for the full convertibility of the local currency, but did not say which ones.

China keeps its currency effectively pegged at 8.28 yuan to the dollar, a level that many trade partners say is artificially low and gives the country an unfair boost in trade.

Doing away with curbs on outbound capital flows would also relieve pressure on the yuan and help the bank combat the billions of dollars in speculative money flowing into the country.




| | |
| --- | --- |
| | |
| Low-cost airlines goes into operation | |

| | |
| --- | --- |
| | |
| Taiwan braces for typhoon, markets shut Monday | |

| | |
| --- | --- |
| | |
| Giant Panda tours city | |
Today's Top News
Top China News

Scholars: KMT, CPC should work for peace, prosperity




Top LNG ship takes shape in Shanghai




French giant VE sees wealth from waste




China to ease capital controls on companies




Gen. MacArthur statue spawns Korea protest




North Korea nuclear talks to start July 26