Gen. MacArthur statue spawns Korea protest
(Agencies)
Updated: 2005-07-18 15:49
Protesters hurled rocks, bottles and eggs during a clash Sunday over the legacy of U.S. Gen. Douglas MacArthur, who landed behind North Korean lines a half-century ago and led U.N. forces in an attack that turned the tide of the Korean War.
The dispute erupted when a small group of anti-MacArthur demonstrators marched at a MacArthur war memorial in the western city of Incheon, site of the late general's 1950s landing. Thousands of MacArthur supporters confronted the protesters in Freedom Park, pelting them with objects and shouting insults. Police were present, and no injuries were reported.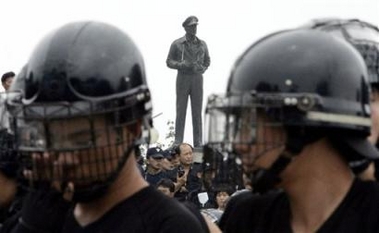 South Korean riot police officers stand guard near a statue of U.S. Gen. Douglas MacArthur during a demonstration at a war memorial housing a statue of U.S. Gen. Douglas MacArthur in Incheon, west of Seoul, Sunday, July 17, 2005. [AP]

South Koreans are divided over whether MacArthur's memory should be revered or banished from the peninsula, a conflict that reflects the depth of anti-American feeling and resentment over the continuing U.S. military presence here.

"MacArthur is a general of blood and tears. He can't stand in this place which symbolizes peace and freedom," said Yoon Han-tak, 70, a retired schoolteacher.

But Song Chul-young, 61, a veteran, disagreed. "Around the statue stand numerous invisible soldiers that fought with him. To take his statue down is to eliminate their souls," he said.

The 15-foot-tall bronze statue was erected in 1957, four years after the end of the Korean war. It depicts MacArthur holding binoculars and wearing a cap, overlooking the sea where his troops came ashore.

Arguments for removing the statue surfaced in 2002 when two schoolgirls died in an accident involving a U.S. Army vehicle. Their deaths spurred a tide of anti-American sentiment, and police have guarded MacArthur's statue around the clock ever since.

Most people involved in the debate are elderly with personal memories of the Korean War and the bitter ideological struggles that South Korea endured in its early years.

"MacArthur is a war criminal who massacred numerous civilians at the time of the Korean War," anti-U.S. groups said in a plea submitted to South Korea's National Human Rights Commission last month.

"To induce or force children to respect such a person by erecting a statue of him and teaching them that he is a great figure is a national disgrace and greatly injures the dignity of our people," they said.

Kim Soo-nam, 65, who heads another anti-American group, recalled the insensitive behavior of U.S. troops during the war.

"They sat in their jeeps and scattered biscuits on the ground. The poorly dressed young children would swarm like ants, and they took photos of that," he said.

But those who want to keep the statue — mainly war veterans, including some who fought alongside MacArthur in his landing operation — are just as firm in their belief that the general's image should remain.

"Not even dogs forget their benefactors," said former South Korean U.N. Ambassador Park Keun, who spoke at a news conference Friday staged by a veteran's group.

Some observers link the MacArthur controversy to changing relations between the South Korean government and Washington. South Korea has become increasingly assertive, and President Roh Moo-hyun promised in his successful 2002 election campaign not to "kowtow to the Americans."

"There already are concerned voices about the abnormal condition of U.S.-(South) Korea relations. Imagine the scene of MacArthur's statue being taken down broadcast live in homes in the United States and worldwide," the Dong-A Ilbo daily wrote in an editorial last month. "History shouldn't be garnished or vandalized with ideology."




| | |
| --- | --- |
| | |
| Demonstrators rally to call for Arroyo's resignation | |

| | |
| --- | --- |
| | |
| Space shuttle Discovery launch delayed | |

| | |
| --- | --- |
| | |
| Blair plans measures to uproot extremism | |
Today's Top News
Top World News

Scholars: KMT, CPC should work for peace, prosperity




Top LNG ship takes shape in Shanghai




French giant VE sees wealth from waste




Experts: China's century is taking shape




North Korea nuclear talks to start July 26




Obesity targeted in national regulation