Scholars: KMT, CPC should work for peace, prosperity
(chinadaily.com.cn)
Updated: 2005-07-18 15:27
Chinese scholars have hailed CPC General Secretary Hu Jintao's move congratulating Ma Ying-jeou being elected as Taiwan's KMT (Kuomintang) new chairman, as of historical significance, clearing up some Hong Kong media's report of Beijing's second-guessing toward Ma.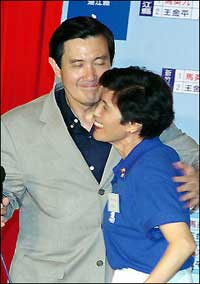 Taipei Mayor Ma Ying-jeou (L) is congratulated by his sister Ma Nai-shi after his election victory to become the new leader of Taiwan's main opposition Kuomintang (KMT) party July 16, 2005. [AFP]

Hu Jintao, general secretary of the Communist Party of China (CPC) Central Committee, sent a message to Ma Ying-jeou on Sunday as the first congratulation sent from a CPC leader to an elected KMT head ever since 1946, when the KMT fled to Taiwan.

Some mainland scholars said Hu's action cleared up Hong Kong media's report of Mainland's doubt toward Ma. Some also predicted that it is "completely possible" for Ma, as the chairman of KMT, to visit the Chinese mainland in the future.

Hu said in the congratulatory message that he sincerely hoped both sides of the Straits could work together for peaceful and stable development of China. It is the first congratulation sent by the leader of CPC to KMT, showing the normalization of the two political parties following the last KMT chairman, Lien Chan, met Hu in Beijing in May.

Ma wrote back to Hu and promised on Sunday he would work to promote exchanges between the KMT and the CPC for peace, prosperity and development across the Taiwan Straits.

"I hope that both the KMT and CPC would work together for the benefits of compatriots on both sides of the Straits, based on the consensus reached between Lien Chan and Hu Jintao on April 29," Ma said.

Prior to the election, some Hong Kong media quoted some Taiwan scholars as saying that Beijing "unpredictably" preferred the "parliament speaker" Wang Yin-pyng to Ma Ying-jeou, to be the new KMT leader, because "Ma is critical of CPC, and supportive of Falun Gong."

However, mainland scholars disagreed with these analyses. They expected that the KMT's policy toward mainland will not be changed no matter who become the next KMT chairman and predicted that Ma would continue following the agreement set during the Hu-Lien meeting to improve cross-Straits relationship. The head of Chinese Academy of Social Sciences Taiwan Studies Research Center Yu Ke-li even described Hong Kong's report as hype.





| | |
| --- | --- |
| | |
| Low-cost airlines goes into operation | |

| | |
| --- | --- |
| | |
| Taiwan braces for typhoon, markets shut Monday | |

| | |
| --- | --- |
| | |
| Giant Panda tours city | |
Today's Top News
Top China News

Scholars: KMT, CPC should work for peace, prosperity




Top LNG ship takes shape in Shanghai




Ma promises to promote KMT-CPC exchanges




French giant VE sees wealth from waste




Experts: China's century is taking shape




North Korea nuclear talks to start July 26