Disneyland celebrates 50th anniversary
(Agencies)
Updated: 2005-07-18 13:51
Thousands of Disney fans donned special gold-colored Mickey ears as they streamed through the entrance to Disneyland on Sunday, 50 years after the landmark opened its gates and gave birth to the modern theme park.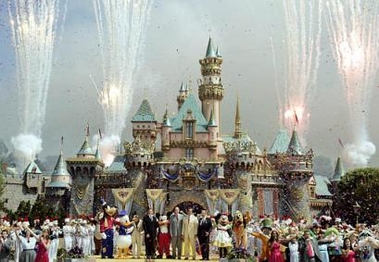 Officials flank Disney characters as fireworks go off to celebrate the 50th anniversary of Disneyland, Sunday, July 17, 2005, in Anaheim, Calif. From left are, Diane Disney Miller; Robert Iger; president, chief operating officer and CEO-elect of The Walt Disney Company; Michael Eisner, CEO; Governor Arnold Schwarzenegger; and Art Linkletter. [AP]


The festivities, which included a fireworks-and-confetti display, were set outside the Sleeping Beauty Castle and began with televised images echoing the fanfare of the park's launch in 1955.

"Dad's vision called for this, for Disneyland, to be something that could grow more beautiful every year, and it has," said Diane Disney Miller, one of founder Walt Disney's two daughters.

Broadcaster Art Linkletter, 93, who hosted the live telecast of the park's opening day along with Ronald Reagan and actor Bob Cummings, also was on hand.

"I'm not only happy to be here, I'm happy to be anywhere," said Linkletter, who also was celebrating his birthday Sunday.

Gov. Arnold Schwarzenegger, who emerged from the castle gates with Mickey Mouse's white-gloved hand on his shoulder, praised the theme park's contributions to the state's economy.

"This is an engine that drives California tourism and our economy," he said. "Thank you for 50 wonderful years."

Disneyland was wildly innovative when it opened on July 17, 1955. It used robotic figures, holographs and panoramic movies in circular theaters to spin stories for children. With virtually no competition, the park had little trouble capturing the imagination of the world.

Over the years, it has pioneered new technology on thrill rides such as the revamped "Space Mountain" in Anaheim and "Mission Space" at Epcot in Orlando, Fla.

But Disneyland's opening day is now remembered as "Black Sunday." The $17 million, 160-acre park initially had prepared for about 15,000 people. Instead, fans burst through the perimeter fence or found other ways inside, swelling the crowd by nearly double.

The wild success of Disneyland led the company to build other theme parks in Florida, Japan and Europe. Now, Disney operates 11 theme parks worldwide.

Jaime Lucero, 57, of Las Cruces, N.M., first visited Disneyland in 1957, and remembered the landscaping was still coming into its own. He said Disneyland represents the American dream.

"It's everything America stands for — imagination, ingenuity, commerce," said Lucero, a Navy civil engineer who brought his wife and two kids on Sunday.

Ticket prices also have changed. An entry ticket into the theme park on its opening day was $1, but people had to purchase individual tickets to go on rides.

By 1959, Disney introduced the "E" ticket, which allowed multiple rides. It was 85 cents. Today, an all-inclusive entry ticket for ages 10 and up is $56.

But Disneyland still draws loyal fans. Janet Kazarian, 54, came decked out in Mickey Mouse earrings, a customized hat, cell phone holder, shirt and button for the occasion.

"We may not always ride the rides, but we enjoy it," she said while with her husband, Steve. "When we come, I think it just makes us grateful to be alive."





| | |
| --- | --- |
| | |
| Sandra Bullock reportedly weds Mechanic | |

| | |
| --- | --- |
| | |
| Miss Intercontinental contest in Hefei | |

| | |
| --- | --- |
| | |
| 11-year-old sells 500,000 households belongings for Internet money | |
Today's Top News
Top Life News

Scholars: KMT, CPC should work for peace, prosperity




Top LNG ship takes shape in Shanghai




French giant VE sees wealth from waste




China to ease capital controls on companies




Gen. MacArthur statue spawns Korea protest




North Korea nuclear talks to start July 26