Fitness fetish
(China Daily)
Updated: 2005-07-18 09:41
After a 10-hour workday, Wang Yue doesn't put her feet up in front of a TV - she prefers to spend one or two hours in the gym, sweating and panting.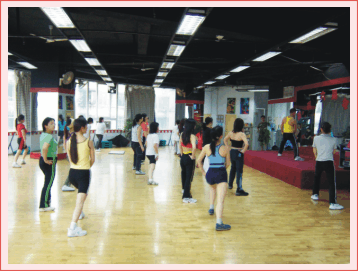 Many urban young professionals take to body building as a efficient way to relieve the fatigue of heavy workload. [baidu]


An annual membership card, priced at 5,500 yuan (US$663), is definitely not small change for the 26-year-old who earns 2,500 yuan (US$300) a month.

But Wang says it is worth it.

"I cannot save much money as the salary is so low. If I didn't spend the money here, I would probably spend it all on shopping," says Wang, wiping sweat on her forehead.

"I come here to be healthy," says Wang, proudly showing off her svelte body. "You only have one life, one body."

With the increase in life expectancy and growing affluence, a rising number of Chinese people are paying special attention to health. The SARS (severe acute respiratory syndrome) outbreak in 2003 was a loud wake-up call, making people suddenly realize the importance of prevention of illness through regular physical exercise.

That change in lifestyle is luring investors from home and abroad to cash in on the fitness fad. Chain fitness centres and independent health clubs are mushrooming in large Chinese cities such as Beijing, Shanghai, Guangzhou, Shenzhen and Dalian.

"As China continues to develop, there will be greater demand for fitness because as people enjoy more the success of what the economy brings, one of the things that comes along with that is a less physically-active lifestyle," says Ben Amante, vice-president of US-based Bally Total Fitness Corp.

"When I was here 10 years ago, there were not many cars, but there were a lot of traffic jams involving bicycles," Amante recalls in an interview with China Business Weekly.

"Today, there are fewer bicycles. People are in cars more, in offices more, basically sitting down more. They'll need somewhere to go for physical exertion."





| | |
| --- | --- |
| | |
| Sandra Bullock reportedly weds Mechanic | |

| | |
| --- | --- |
| | |
| Miss Intercontinental contest in Hefei | |

| | |
| --- | --- |
| | |
| 11-year-old sells 500,000 households belongings for Internet money | |
Today's Top News
Top Life News

Scholars: KMT, CPC should work for peace, prosperity




Top LNG ship takes shape in Shanghai




French giant VE sees wealth from waste




China to ease capital controls on companies




Gen. MacArthur statue spawns Korea protest




North Korea nuclear talks to start July 26