EU chief: China's rise no threat to others
(Xinhua)
Updated: 2005-07-17 09:50
Jose Manuel Barroso, president of the European Union Commission, said in Shanghai Saturday that China's development and growth should be regarded as an opportunity rather than a threat.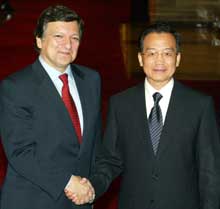 Chinese Premier Wen Jiabao (right) shakes hands with EU president Jose Manuel Barroso before their talks in the Great Hall of the People in Beijing July 14, 2005. [newsphoto]

Delivering a speech at a business school in Shanghai, Barroso said the whole world is increasingly aware of China's influence with its rapid economic growth over the past two decades. But China's rise is "an opportunity" rather than "a threat" to other countries, he said.

Barroso arrived in Beijing Thursday morning for a five-day official visit. He said during his stay in Shanghai, he saw a modern, open and vigorous China.

He said China's entry into the World Trade Organization is a landmark issue in the Chinese history. China's economy is rapidly integrating into the world economy and taking an increasingly bigger proportion in the world economy, he said

He said the European Union will make contributions to China's development.

Referring to the trade frictions between China and EU, Barroso said the EU hopes to solve all the disputes through contact and dialogue.

In an interview with Chinese media, Barroso said it's natural for the EU and China to have frictions and differences given the extensive trade exchanges between them.

The EU is currently China's largest trade partner and China ranked second among all EU's trade partners.

Barroso said the EU regards China as a partner, adding that the two should solve the current trade disputes with constructive methods rather than confrontation.

As long as the EU and China continue to have dialogue and consultation based on the principles of mutual understanding and mutual benefit, disputes between the two would be solved properly, he said.

Referring to China's market economy status, Barroso said the EU recognizes China's economic achievements and the changes in the country's economic sector. But he noted that the two still have a great deal of technical work to do before EU recognizes China's full market economy status.

Meanwhile, the EU official also urged China to pay more attention to the protection of its traditional culture and environment to maintain a long-term and steady development.

Barroso arrived in Shanghai Saturday morning from Beijing where he had met with Chinese President Hu Jintao and held talks with Premier Wen Jiabao.

It is Barroso's first visit to China as president of EU Commission.While in Beijing, Barroso had met with Chinese President Hu Jintao and held talks with Premier Wen Jiabao.