US military official accuses Russia, China of bullying
(Agencies)
Updated: 2005-07-15 09:25
The top U.S. military officer accused Russia and China on Thursday of "trying to bully" smaller Central Asian nations that host U.S. troops and cooperate with Washington in fighting terrorism.
Gen. Richard B. Myers, chairman of the Joint Chiefs of Staff, was asked by a reporter what he thought of a statement last week by a regional alliance, led by China and Russia, calling on the U.S. to set a date for withdrawing forces from bases in the former Soviet republics of Uzbekistan and Kyrgyzstan.
U.S. forces have used a base in each country since the early days of the war in Afghanistan. Both governments recently have questioned the need for continued U.S. access.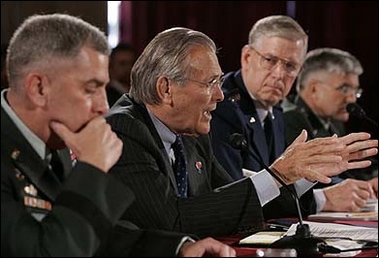 US Secretary of Defense Donald Rumsfeld testifies about operations in Iraq including the training of Iraqi troops, before the Senate Armed Services Committee. Rumsfeld was joined by Chairman of the Joint Chiefs of Staff General Richard Myers(2nd R), General John Abizaid, commander of Central Command(L), and Commanding General Multi-National Force-Iraq General George W. Casey(R). [AFP/file]

Uzbekistan has imposed new limits on U.S. use of its Karshi-Khanabad air base, after the Bush administration spoke critically of Uzbekistan's handling of anti-government rioting in May.

The statement last week by the Shanghai Cooperation Organization was interpreted by some as an attempt by Russia and China to push the U.S. out of a region that Moscow regards as historically part of its sphere of influence and in which Beijing seeks a bigger role because of the region's extensive energy resources.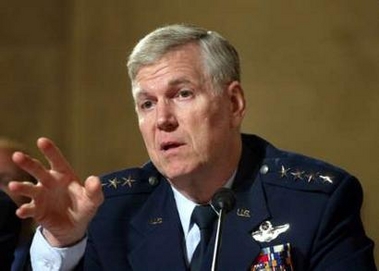 General Richard Myers testifies at a hearing on fighting the global war on terrorism at the Senate Armed Services Committee on Capitol Hill in Washington June 30, 2005. [Reuters/file]

"No, I don't think the Shanghai memo or communique or whatever came out was particularly useful," Myers said. "Looks to me like two very large countries were trying to bully some smaller countries. That's how I view it."

Myers said the U.S. has much to offer that region.

"Security and stability in Central Asia is an important concept, and those who can bring security and stability ought to be welcome in Central Asia," he said.

At the Pentagon, spokesman Lawrence Di Rita said Defense Secretary Donald H. Rumsfeld had not been in contact with his counterparts in Uzbekistan and Kyrgyzstan since they publicly questioned the continued presence of U.S. forces.

Di Rita said the administration was considering its options and he suggested that the U.S. military had enough flexibility to get along without access to the bases in Uzbekistan and Kyrgyzstan.

"There's no single installation anywhere in the world that we must have and can't live without, so we'll make adjustments if we're not going to use those installations going forward," Di Rita said.

The spokesman acknowledged that the presence of U.S. forces on Russia's periphery has been sensitive issue.

"It's an issue that does arise when the secretary meets with his Russian counterpart, the U.S. activities in Central Asia," Di Rita said.

"But it's part of our operations in this struggle against violent extremism, and I think the Russians understand that. The same thing applies to our involvement in (the former Soviet republic of) Georgia, which we know is a situation of some anxiety for the Russians."




| | |
| --- | --- |
| | |
| Space shuttle Discovery launch delayed | |

| | |
| --- | --- |
| | |
| Blair plans measures to uproot extremism | |

| | |
| --- | --- |
| | |
| Pakistan train crash carnage kills 128 | |
Today's Top News
Top World News

China to launch manned spacecraft in October




PLA on course to cut 200,000 personnel




Japan approves oil drilling, China protests




China plans to build 10 more nuclear reactors




UK bomb probe focuses on chemist, Briton




Cross-Straits exchanges widen with business