Taiwan's KMT Party to elect leader Saturday
(Agencies)
Updated: 2005-07-14 14:57
Many in the mainland hailed the historical home-coming trip headed by Lien, and pinned hope on an eventual peaceful reunion of Taiwan and the mainland.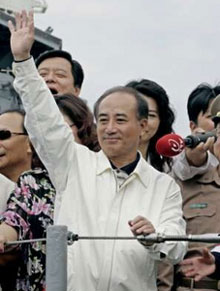 Taiwan's "parliament speaker" Wang Jin-pyng waves on the deck of a naval frigate off Suao, southwest of Taipei June 21, 2005. Wang and Taipei mayor Ma Ying-jeou are running the leadership of the KMT in Taiwan. [Reuters]

"It looks like Ma has a better chance of winning," said Emile Sheng, a political scientist at Soochow University.

With handsome, squeaky-clean looks and a Harvard law degree, the 55-year-old mayor enjoys high popularity in northern Taipei. Dubbed "Little Brother Ma" by his supporters, many see the mayor as the opposition's best, and perhaps only, hope of wresting power back from the DPP in 2008.

"Choose a right chairman in 2005, than the KMT will definitely win in 2008," read one of Ma's campaign ads. But critics say Ma lacks backing in rural areas, especially in the island's south, where support for a local Taiwan identity runs high. Ma is also relatively junior in a party filled with elders like Wang, who is 64.

Ma, whose mother tongue is Mandarin, speaks fluent English. He speaks the local Taiwanese dialect with a heavy accent.

Wang, on the other hand, enjoys a strong following in the south and carries significant political clout as head of the local Taiwan parliament, called the the Legislative Yuan.

"We are not voting for the leading actor of a soap opera, we are voting for a chairman who can unite the opposition camp," Ju Gau-jeng, one of Wang's supporters, wrote in a open letter.

"The KMT should learn from its painful lessons in the past. It should nominate local Taiwanese as candidates for the 2008 vote in order to win."






| | |
| --- | --- |
| | |
| Special police detachment established in Xi'an | |

| | |
| --- | --- |
| | |
| Panda cubs doing well in Wolong | |

| | |
| --- | --- |
| | |
| Suspect arrested in Taiwan | |
Today's Top News
Top China News

China to launch manned spacecraft in October




PLA on course to cut 200,000 personnel




EU, China pledge to strive for partnership




China's forex reserves increase to US$711bn




Taiwan's KMT Party to elect leader Saturday




Japan approves oil drilling, China protests