Annan advocates UN Council expansion now
(Agencies)
Updated: 2005-07-14 09:09
U.N. Secretary-General Kofi Annan said on Wednesday the 15-member Security Council needed to be expanded because it was no longer democratic, despite U.S. warnings the time was not ripe for change.
Annan, who would like the U.N. General Assembly to make a decision before a U.N. summit in September, spoke as a deadlock was emerging, with foreign ministers from Germany, Brazil, Japan, India, Nigeria and Ghana in New York this weekend for probable negotiations on rival plans for expansion.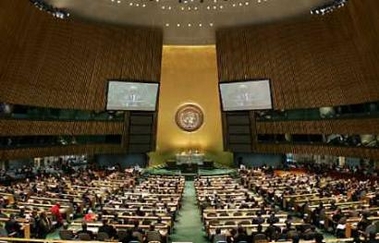 A view of the General Assembly hall at United Nations headquarters in New York, May 2, 2005. [Reuters/file]

"I think we all have to admit that the council can be more democratic and more representative," Annan told reporters after a lunch with the Security Council. "There is a democracy deficit in the U.N. governance that has to be corrected."

"Of course it is up to the members to determine whether they will let size trump democracy and representativeness," Annan said, adding that the United Nations went "around the world lecturing everybody about democracy."

"I think it is about time we apply it to ourselves and ensure there is effective representation," he said.

Germany, Brazil, Japan and India are mounting a diplomatic offensive to get critical African support for their bid for an expanded U.N. Security Council by 10 seats. Without the 53 votes from the African Union, their plan is doomed.

Foreign ministers from the four, contenders for permanent council seats, hope for a meeting on Sunday or Monday with their counterparts from Nigeria and Ghana, representing the AU, if it appears there is a chance for a compromise.

The four will meet U.N. General Assembly President Jean Ping, on Sunday his spokesman said, adding that the Nigerian and Ghanaian ministers met Ping on Wednesday.

At issue is an increasingly rancorous debate in the U.N. General Assembly, after 12 years of discussions, on revamping the Security Council, which was created to reflect the balance of world power 60 years ago.

The council, responsible for U.N. decisions on war and peace, sanctions and peacekeeping, has permanent seats for the United States, Russia, Britain, China and France -- the World War II victors. A further 10 nations on the 15-seat council rotate for two-year terms.

The United States, Russia and China oppose enlargement now but France and Britain support the resolution by the four contenders as do many Europeans.

On Tuesday, Shirin Tahi-Kheli, a senior State Department advisor, told the Assembly the Bush administration did not believe "any proposal to expand the Security Council - including one based on our own ideas -- should be voted upon at this stage."

Any plan needs two-thirds approval from the 191-member General Assembly. But eventually, there would need to be a U.N. Charter change and here the five permanent members can use their veto power.

Germany, Japan, Brazil and India have introduced a General Assembly resolution to add six permanent seats to the council, four for themselves and two for Africa, and four nonpermanent seats for a total of 25. A decision on whether to grant new members veto rights would be put off for 15 years.

The African Union has decided on the same number of permanent seats, but wants five nonpermanent seats for a total of 26. The AU also insists on the veto rights, which the four aspirants dropped because of lack of support.

A third proposal, circulated but not introduced by a group called "Uniting for Consensus" would have all nonpermanent seats for varying terms. Italy, a leader of this group is sending a deputy foreign minister to New York shortly to lobby delegations.




| | |
| --- | --- |
| | |
| Space shuttle Discovery launch delayed | |

| | |
| --- | --- |
| | |
| Blair plans measures to uproot extremism | |

| | |
| --- | --- |
| | |
| Pakistan train crash carnage kills 128 | |
Today's Top News
Top World News

Taiwan's KMT Party to elect new leader Saturday




'No trouble brewing,' beer industry insists




Critics see security threat in Unocal bid




DPRK: Nuke-free peninsula our goal




Workplace death toll set to soar in China




No foreign controlling stakes in steel firms