Stankovic Cup 2005 to kick off on July 26th
(www.fiba.com)
Updated: 2005-07-13 10:24
FIBA President Carl Men Ky Ching announced the launch of a new invitational tournament, which includes some of the best basketball teams in the world.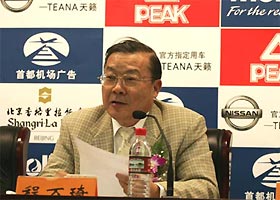 FIBA President Chinese Carl Men Ky Ching speaks at a press to launch the Stankovic Continental Champions Cup on July 12, 2005. [sina.com.cn]

Organized by the Chinese Basketball Association (CBA) in the Beijing Capital Stadium from July 26th ĘC 31st 2005, the Cup will feature Olympic Gold Medalist Argentina, Asian Champions China, European Champions Lithuania, Oceania Champions Australia, African Champions Angola and the Americas 1st runner-up Puerto Rico.

"The Beijing Capital Stadium will house the highest basketball level ever played in the Chinese basketball history," stated Mr. Ching at the press conference.

"I want to thank the Ministry of Sports, especially the Chinese Basketball Association, and the Beijing City Government for their full support and for hosting this Championship."

The event is named "Stankovic Continental Champions Cup" in honor of Mr. Borislav Stankovic for his lifetime pursuit of basketball. He has been FIBA Secretary General for over 26 years and in his term of office, the distinction between amateurs and professionals had been lifted allowing the world's best basketball players to participate in Olympic Games and FIBA World Championships.

"Basketball would not be what it is today without him", stated FIBA Secretary General Mr. Patrick Baumann. "The game now belongs to the top sports in the world, popular, spectacular and truly global. We look forward to the action, which will commence on July 25th in the Olympic city of 2008 ĘC just one year ahead of the 2006 FIBA World Championship, which will be hosted in Japan."





| | |
| --- | --- |
| | |
| 6-party talks start in Beijing | |

| | |
| --- | --- |
| | |
| Surgery on tiger to remove tumor | |

| | |
| --- | --- |
| | |
| China scraps yuan peg to US dollar | |
Today's Top News
Top China News

China's central bank denies quick rise in RMB value




6-party talks open, host China urges flexibility




China halts pork exports from 2 cities




Women astronauts set to fly by 2010




Unocal 'almost backed China bid'




US, China may not reach textile deal