'Comfort women' distortion stirs indignation
(Xinhua/chinadaily.com.cn)
Updated: 2005-07-13 09:16
China expressed indignation and strongly condemned the act of a Japanese cabinet member who once again made utterly shameless comments on the "comfort women" issue, Chinese Foreign Ministry Spokesman Liu Jianchao said in Beijing on July 12.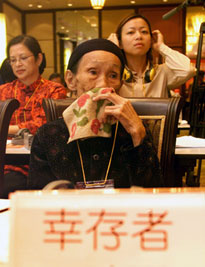 Chen Jinyu, 79, tells of her four-year painful experience as a comfort woman during World War II on September 18 last year at a Shanghai international symposium about Japanese invasion into Asia. Chen was forced into sex slavery in 1941 when she was 16 years old. [newsphoto]

Liu made the remarks when answering a question about the Chinese government's response to the comments made by Japanese Education, Culture, Sports, Science and Technology Minister Nariaki Nakayama.

Nakayama said in a recent public address in Fukuok that he is very moved and excited by the E-mail message from a female Japanese studying in Canada. The E-mail says "the victimized women in Asia should be proud of being comfort women." He said the message is a rare and "encouraging" comment to him.

According to Nakayama, part of the e-mail message asks, "I wonder why people create words that have a bad image and make a fuss as if it was a bad deed?"

Liu said such comments have hurt the feelings of people in countries victimized by Japan's war of aggression.

"The Japanese government should be held responsible to keep the acts and comments of relevant persons within certain bounds of discipline," Liu said.

Liu said the act of forcing women to become "comfort women" was one of the serious crimes that militarist Japan committed against the people of all victimized countries, including China, in the World War II. This historical fact cannot be denied by any persons, Liu said.

Nakayama had repeatedly made such comments on the issue of "comfort women". He said in a public address in June that there were originally no such words as "comfort women," so it was good that the "incorrect" description was removed from school textbooks.

In November 2004, Nakayama said it was very pleasing to see the self-abusing description of "comfort women" disappearing from history textbooks in Japan.

"Comfort women" is a euphemism used in Japan to describe women forced into sex slaves by the Imperial Japanese Army in Japan's invasion in its Asian neighbors before and during the World War II.

This year marked the 60th anniversary of the victory of world anti-Fascist war. Liu said the Japanese side should face squarely, with an honest attitude, its aggressive past and have profound retrospection on it. Japan should properly handle all the issues left over by history, including the issue of "comfort women."

And in South Korea, the South Korean government on Tuesday slammed Japanese education minister Nariaki Nakayama over his renewed remarks on the issue of "comfort women," in which he said the word did not even exist during World War II.

"(The South Korean government) expresses deep concern over his remarks to defame forced sex slaves once again," Foreign Ministry spokesman Lee Kyu Hyung said in a statement, according to South Korea's Yonhap News Agency.

"We have no choice but to question his qualification as a politician as well as his views on history and awareness of human rights," he added.




| | |
| --- | --- |
| | |
| Special police detachment established in Xi'an | |

| | |
| --- | --- |
| | |
| Panda cubs doing well in Wolong | |

| | |
| --- | --- |
| | |
| Suspect arrested in Taiwan | |
Today's Top News
Top China News

Taiwan's KMT Party to elect new leader Saturday




'No trouble brewing,' beer industry insists




Critics see security threat in Unocal bid




DPRK: Nuke-free peninsula our goal




Workplace death toll set to soar in China




No foreign controlling stakes in steel firms