Special envoy leaves for DPRK
(Xinhua)
Updated: 2005-07-12 12:59
Chinese State Councillor Tang Jiaxuan, as a special representative of Chinese President Hu Jintao, left Beijing Tuesday morning on an official goodwill visit to the Democratic People's Republic of Korea (DPRK).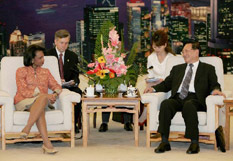 State Councillor Tang Jiaxuan meets with visiting US Secretary of State Condoleezza Rice in Beijing, July 10, 2005. [Xinhua]กก
This visit is just more than one week ahead of the expected resumption of the six-party talks on the Korean Peninsula nuclear issue as US Secretary of State Condoleezza Rice ended her 20-hour Beijing visit on Sunday.
The DPRK announced on Saturday that it had agreed with the United States to hold the fourth round of the six-party talks in the week beginning July 25 after a secrete meeting between diplomats of the two countries in Beijing.
The announcement was welcomed by all the six parties including China, the DPRK, the United States, the Republic of Korea, Russia and Japan.
Rice said in Beijing that she considered the resumption of the six-party talks as "an important first step". However, "It is not the goal of the talks to have talks; it is the goal of the talks to have progress."
"There have been tremendous flurry of diplomatic activities from all the parties of the six-party talks," Rice said, adding that there were efforts of the United States, Russia, the Republic of Korea and especially China.
"I think Chinese have played a very active role to show North Korea what path ahead might look like," Rice said.
Since China started to mediate the nuclear dispute between the United States and the DPRK in 2003, China has hosted several rounds of China-DPRK-US talks and six-party talks in Beijing.
The first six-party talks were launched on Aug. 27, 2003 at the Diaoyutai State Guesthouse in downtown Beijing.
But after the third round of the talks, the DPRK decided to suspend participation, claiming US' policy of hostility.
Fu Mengzi, director of the institute of American study under the China academy of contemporary international relations, said that China has always been working for amicable settlement and promoting talks on the issue.
"China, as a constructive force, has made a lot of 'quiet diplomacy' in solving the issue", said Jin Canrong, a professor with the Chinese People's University.
President Hu told Rice on Sunday that China hopes that the good momentum, in which all the parties concerned are seeking common grounds, would be enhanced and further boosted.
China is ready to keep close contact and cooperation with all the parties concerned, and will continue to play a constructive role in seeking progress in the new round of six-party talks, Hu said
| | |
| --- | --- |
| | |
| Special police detachment established in Xi'an | |

| | |
| --- | --- |
| | |
| Panda cubs doing well in Wolong | |

| | |
| --- | --- |
| | |
| Suspect arrested in Taiwan | |
Today's Top News
Top China News

Taiwan's KMT Party to elect new leader Saturday




'No trouble brewing,' beer industry insists




Critics see security threat in Unocal bid




DPRK: Nuke-free peninsula our goal




Workplace death toll set to soar in China




No foreign controlling stakes in steel firms