Wal-Mart, Gap look to India as yuan may rise
(bloomberg)
Updated: 2005-07-12 09:26
China Needs Time
The U.S. is pressing China to change its decade-old policy of fixing the yuan at about 8.3 to the dollar to reduce the flood of low-price goods into the U.S.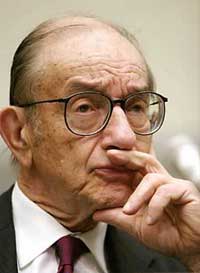 Federal Reserve Board Chairman Alan Greenspan pauses during testimony before the Joint Economic Committee on Capitol Hill in Washington DC June 9, 2005. [Reuters]

Federal Reserve Chairman Alan Greenspan on June 7 said a revaluation of the Chinese yuan is "something that I'm certain they will take on reasonably soon." On June 23, he said such a currency change won't increase U.S. manufacturing "significantly" and would "likely redirect trade within Asia."

Chinese Premier Wen Jiabao said June 26 that his country needed more time before it could free the yuan from the dollar.

"A great deal of preparation is still needed until we have favorable conditions," Wen said in his opening speech at the Asia-Europe Meeting (ASEM) of European Union and Asian finance ministers in the Chinese coastal city of Tianjin.

Retailers including Wal-Mart are also expanding purchases in China this year, in part to support an expansion of retail stores. Wal-Mart, which operated 45 stores in China on April 30, plans to add 15 locations this year in the nation.

Wal-Mart's Burden

Wal-Mart bought US$18 billion in apparel and other goods from China last year, an increase from US$10 billion in 2001, making it the country's seventh largest export trading partner ahead of the U.K. A yuan revaluation may be "more burdensome for Wal-Mart than other retailers," said Jon Jacobs, fixed-income analyst at Cantor Fitzgerald LP in New York. "Wal-Mart has based their positioning on being the lowest-price vendor."

Indian factories may gear up to produce as much as $5 billion in goods for Wal-Mart over the next three years, said Nirav Sheth, deputy head of research at Brics Securities Ltd. in Mumbai.

"India has a strong manufacturing base, particularly in textiles, mainly because of cheap labor costs," Sheth said. "The quality of textiles from India is comparable to the best in the world."

India's costs for producing clothing are about 1 percent less than China's, according to a Bain & Co. report from June.





| | |
| --- | --- |
| | |
| Space shuttle Discovery launch delayed | |

| | |
| --- | --- |
| | |
| Blair plans measures to uproot extremism | |

| | |
| --- | --- |
| | |
| Pakistan train crash carnage kills 128 | |
Today's Top News
Top World News

Taiwan's KMT Party to elect new leader Saturday




'No trouble brewing,' beer industry insists




Critics see security threat in Unocal bid




DPRK: Nuke-free peninsula our goal




Workplace death toll set to soar in China




No foreign controlling stakes in steel firms