China, US open trade talks with agreements expected
(Agencies)
Updated: 2005-07-11 14:32
China and the United States opened annual high-level trade talks in Beijing with an agreement expected on a wide range of thorny issues including intellectual property, aviation and petrochemicals, officials said.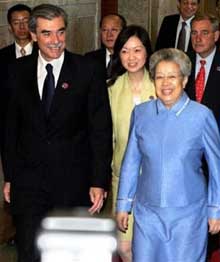 Chinese Vice Premier Wu Yi, right and U.S. Commerce Secretary Carlos Gutierrez, left, walking to a meeting of the U.S.-China Joint Commission on Commerce and Trade, (JCCT) in Beijing July 11, 2005. [AP]

Attending the Joint Commission on Commerce and Trade (JCCT) from the US side are Trade Representative Rob Portman, Commerce Secretary Carlos Gutierrez and Agriculture Secretary Mike Johanns.

China's team is headed by Vice Premier Wu Yi.

The JCCT was set up in 1983 as a mechanism to help resolve trade concerns and pursue bilateral commercial opportunities. It was upgraded in 2003 to take on higher-level issues and outstanding disputes.

Later Monday, the two sides will sign an agreement on a series of bilateral concerns that will also include trade in agriculture, bio-technology, banking and civil aviation, US embassy officials said.

"The agreement is aimed at the promotion of bilateral trade opportunities and the resolution of trade concerns," one US official said.

Portman and Johanns are due to head on to a meeting of about 30 World Trade Organisation (WTO) members in the northeastern Chinese city of Dalian on Tuesday, which is aimed at energising negotiations on liberalising global commerce.

Portman said a top priority for the United States at the JCCT talks would be intellectual property rights (IPR), with US industry complaining about fake goods in China.





| | |
| --- | --- |
| | |
| Special police detachment established in Xi'an | |

| | |
| --- | --- |
| | |
| Panda cubs doing well in Wolong | |

| | |
| --- | --- |
| | |
| Suspect arrested in Taiwan | |
Today's Top News
Top China News

Taiwan's KMT Party to elect new leader Saturday




'No trouble brewing,' beer industry insists




Critics see security threat in Unocal bid




DPRK: Nuke-free peninsula our goal




Workplace death toll set to soar in China




No foreign controlling stakes in steel firms