China tries a new tactic over drugs: Openess
(Agencies)
Updated: 2005-07-10 14:48
At a hilltop compound with picturesque views of a lake and red mountains on China's tropical southern edge, a group of young men in turbans and women in colorful dresses perform folk dances, clap their hands and sing.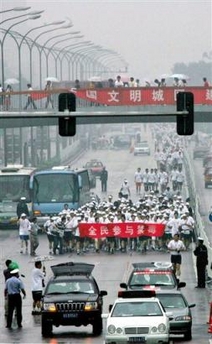 Chinese volunteers brave the rain to march against drugs in honor of anti drug day in Beijing, China Sunday, June 26, 2005. Government said 10,000 people took part in the march in the city's northwest. [AP]


The performers from the tiny Bai ethnic group sing not tales of love, but slogans against drugs.

They are former heroin addicts, inmates in a compulsory drug-treatment camp, part of a network run by the Chinese government that is a key part of efforts to rein in soaring drug abuse.

"We want young people here to heal and to find the foundation for a a new future," said the center's director, Li Zhidong.

The government brought a group of foreign reporters to this camp near Dali, a popular tourist spot, as part of efforts to fight drugs with an unusual new strategy _ openness.

Officials who once denied that China had a drug problem now talk openly of hundreds of thousands of addicts, even among ethnic minorities such as the Bai.

"The drug situation in China is still grim, and the developing and spreading trend of the drug problem has not yet been fundamentally reversed," the National Narcotics Control Commission said in a report issued in February.

In April, Chinese leaders announced a "People's War on Drugs," appealing for public help to rehabilitate addicts and offering rewards for help in catching traffickers.

The government has begun anti-drug classes as early as the fifth grade in urban primary schools, and is expanding them to the countryside.

Nowhere is this approach more obvious than in the southwestern province of Yunnan. The area is famous for its diverse ethnic groups and mountain scenery but condemned by geography to play a significant role in China's narcotics problem.

Yunnan abuts the "Golden Triangle," the heroin-producing area that covers parts of Myanmar, Laos and Thailand.

Dali, an ancient walled city, and the Dali Mandatory Detoxification Center lie just 200 kilometers (125 miles) from the Myanmar border on the shores of Erhai Lake.

The beauty of the setting draws millions of Chinese and foreign tourists a year.

At the hilltop drug center, the 1,000 residents raise pigs and cattle, grow cucumbers and weave baskets.

A significant number are ethnic minorities. According to Li, 25 percent of inmates are not Han Chinese, but mostly Bai, who are 38 percent of the local population.

Li guided foreign reporters around his facility, showing room upon room of young men with close-cropped hair and blue uniforms sitting on beds playing cards.

Others work in stables downhill, tending to dairy cows imported from Australia.

In the provincial capital, Kunming, the chief of Yunnan's anti-drug police said geography is the region's main curse.

"Our problem is that the source of the drugs is outside of our control," said Sun Dahong.

China is exchanging intelligence with Myanmar and helping to provide alternatives to local farmers, Sun said. But he said it is still too early to see whether the cooperation would bring results.

The number of drug cases handled by police rose by 4.4 percent in 2004 from the previous year to over 98,000, the February report by the anti-narcotics agency said. The number of drug suspects arrested was up by 5.1 percent to 67,000.

The amount of heroin seized by police rose 13.6 percent to 10.8 tons, according to government figures.

Anti-drug publicity includes opening up such centers to visits by Chinese and foreign reporters, though officials say there are no plans for public tours.

In the hills outside Kunming, the capital of Yunnan, reporters were taken to a drug-treatment facility where hundreds of female inmates hunched over low tables used glue and needles to dress up puppets in the local ethnic minority costumes.

In a nearby hall, male inmates sullenly listened to a hygiene lecture by a white-coated doctor. On the white wall was a slogan in red Chinese characters: "Resolutely Fight the Damage from Drugs."

The 3,000 residents of the Kunming camp are there for three- to six-month stints. They grow tomatoes and raise pigs, as well as more exotic animals such as ostriches.

The agricultural practice prepares the addicts for their return to a drug-free life, said the center's deputy director, Shen Jie.

In a room upstairs, men and women wearing black T-shirts with the Chinese character for "dance" showed off their ballet moves to the visiting reporters.

Wan Zhichao, a crewcut, tough-looking youth, is only 16, and two months into treatment. He started using heroin three years ago, spending 50 yuan (US$6; €5) per shot with money from his relatives.

Marks in his arm are not the result of shooting heroin: "I burnt myself with cigarettes out of anger," he said.

Wan insisted he wanted to change his life.

"When I get out, I want to return to the family farm and drive a truck," he said.

An anti-drug museum also is under construction in Kunming.

Narcotics are on display in glass cases _ from white heroin powder to pink, orange, green and red methamphetamine tablets. Featured prominently are pictures of addicts with skin disfigured by drug use and their elderly mothers weeping in despair.

But officials say heroin is no longer the only danger for young people. They say "party drugs" such as ketamine and the methamphetamine "ice" are making inroads.

"Party drugs are easier and cheaper to produce," Sun said, "and young people mistakenly believe they are less addictive."

| | |
| --- | --- |
| | |
| Demi Moore: conquer aging with baby | |

| | |
| --- | --- |
| | |
| Lin Chih-ling injured in horse fall | |

| | |
| --- | --- |
| | |
| Jolie adopts Ethiopian AIDS orphan | |
Today's Top News
Top Life News

Taiwan's KMT Party to elect new leader Saturday




'No trouble brewing,' beer industry insists




Critics see security threat in Unocal bid




DPRK: Nuke-free peninsula our goal




Workplace death toll set to soar in China




No foreign controlling stakes in steel firms